It's not too late to watch our recent webinar on training and retaining service technicians! It's still available for free, and includes a full hour of real-world stories, techniques, and tips for improving training and service within your own operations.
During the webinar, we got some excellent input from Joe Thornton, the Employee Development Manager at Carolina Tractor & Equipment (CTE). CTE is an official Caterpillar partner, along with numerous other brands of industrial equipment, making training a top priority for them. They've been industry leaders for almost a century, and a focus on staying up-to-date on recruitment and training is a big part of that.
In particular, Joe shared some key tips for how they recently modernized their training programs, with help from LogicBay and our white-label FUSE training and communications platform. These are some of our favorite insights that he shared.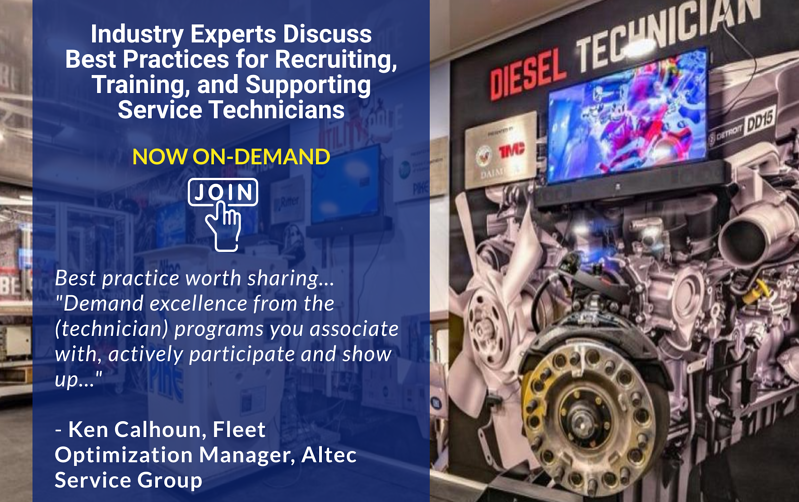 Tips For Modernizing Your Employee Training From CTE
1. Move away from paper
For CTE, one of their biggest changes was finally moving away from paper entirely. Embracing digital tactics allowed them to reduce costs, simplify training for technicians, and significantly increase the amount of data they could collect on their training programs. They were still able to convert many of their existing training documents into digital versions, reducing the costs of content creation, while still seeing the benefits of an all-digital process.
2. Give managers final say on training
One misapprehension some people have about e-learning systems is that it means everything is computer-controlled. While it's possible to fully automate your digital training systems, this isn't a requirement. CTE got best results by giving their managers final say on whether employees passed certain modules or tests. This prevented problems with 'dumb' systems making poor choices in edge cases, and added a level of human oversight to the process.
According to Joe, their managers even became much more enthusiastic and engaged with the training process, when they saw how easy it was to oversee FUSE-based training.
3. Offer plenty of training options
CTE offers six different tiers of training, ranging from entry-level training intended for recent graduates just entering the field, to expert-level material for top-tier technicians. These are also broken down into separate curriculum based on product, manufacturer, etc. By diversifying their training, they give their technicians plenty of opportunities to expand and diversify their skillset.
4. Track progress after curriculum completion
Another smart choice CTE made was to tie post-training tracking back to the training. Workers are monitored in their jobs after completing a course, and their performance is used to evaluate the long-term effectiveness of the training programs. This is a great way to take data-based feedback and use it to improve training, such as spotting deficiencies and adding material to address real-world issues which are discovered.
5. Crowd-sourcing video content
Finally, they've just begun a new program where field technicians and similar workers are being encouraged to create their own training videos, or even document jobs in progress. This is a fantastic idea, since it's another way to ensure the "classroom" learning matches real-world experiences as closely as possible. Of course, submitted videos are still reviewed by managers before being approved, to ensure training quality is maintained.
LogicBay specializes in situations like these, helping companies improve and modernize their internal training and communications systems. To learn more, don't forget to check out the full webinar, or contact us to discuss your specific needs.