Business ecosystems are becoming the preferred mode of operating in the modern economy, moving away from the 20th Century vertical hierarchies and towards a more robust and distributed functional model. Companies are taking full advantage of technology improvements of the last 25 years, which result in hyper-connectedness via the digital economy, transforming the structure of their business operations. This new preferred framework is the ecosystem business model.
Understanding Ecosystems in Manufacturing
Accenture Strategy provides a definition applicable for a Manufacturing Ecosystem, "a network of industry players who work together to define, build, and execute market-creating customer and consumer solutions; defined by the depth and breadth of potential collaboration among a set of players. The power of an ecosystem is that no single player owns or operate all components of the solution, and the value the ecosystem generates is larger than the combined value each of the players could contribute individually." 1
Based on Accenture's recent survey of over 1,250 business leaders across diverse industries, it's clear that an Ecosystem strategy is a business model that all business leaders should pay attention to. The survey results showed:
60% of execs would build ecosystems to disrupt their industry
Further, 72% agreed that in five years, business models would be "unrecognizable" and that ecosystems would be a driving force
Lastly, 84% said that ecosystems are important to business strategy 1
Sound interesting?
Click to learn about our upcoming webinar!
Applying the ecosystem business model in the manufacturing industry implies that many dissimilar business entities, each with its own motives and purpose come together to derive value as an interconnected whole. Outcomes are optimized when these parties leverage the best aspects of each other's participation in the ecosystem model. Key stakeholders in a manufacturing ecosystem include the manufacturer (as one would expect), as well as dealers, distributors, suppliers, trade schools, industry associations, consultants, service providers, and customers.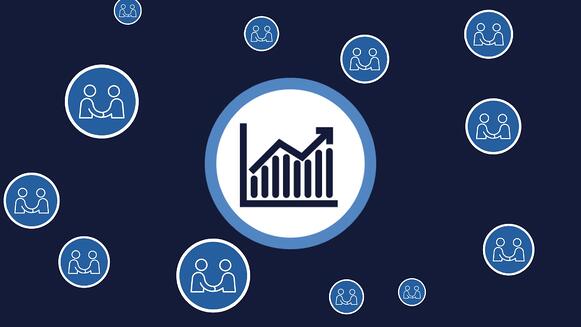 Here's a specific example of how Daimler Trucks North America (DTNA) brings disparate audiences together to address a business challenge, utilizing a manufacturing ecosystem approach:
Background:
DTNA is a manufacturer of some of the most well-known brands in the trucking industry, including Freightliner Trucks, Western Star Trucks, Freightliner Custom Chassis, and Detroit Diesel Corporation. DTNA sells and services these brands through a network of dealers across North America and is responsible for providing web-based and instructor-led training to the members of these dealers.
Business Challenge:
DTNA, like many other manufacturing companies, is addressing a global labor shortage of experienced and trained service technicians.
The Solution:
In order to help tap into the next generation of technicians, DTNA developed the Get Ahead Program. This program serves as a partnership between DTNA, their dealers, and schools across the country. Through web-based and in-person training sessions, student certifications, and immediate opportunities for career placement and advancement, the Get Ahead Program is a perfect example of an ecosystem that joins the manufacturer, the dealer, the trade school, and technicians of tomorrow. Not only do the schools and future technicians get access to best-in-class training content, the dealers obtain a pipeline of qualified job candidates, and DTNA gains brand awareness and exposure as a leader in their industry.
So, is your business falling short of its objectives? Are there specific business outcomes that your business can't achieve on its own? If so, an ecosystem like FUSE, and the associated business model, should be a consideration.
Here, and highlighted in our upcoming webinar, we address five key questions to ask to better understand, plan for, and navigate the execution of an ecosystem strategy for your business. Ready to get started?
1. What should I consider before launching an ecosystem?
Before establishing an ecosystem, some comprehensive steps to prepare would be:
Define key business goals and objectives of the ecosystem: It's important to take notice of current industry trends and challenges and aim to create an open environment that evokes collaboration, fosters business growth and enables members to gain key learnings and industry insights.
Determine the key players: Your ecosystem will thrive by involving members who collectively bring expertise, business processes, and relationships that add value and serve the business goals and objectives of the ecosystem.
Expand borders and continue the development of the ecosystem: Grow and evolve the ecosystem community by thinking outside the box containing your existing consumers and partners. Scale and promote collaboration by staying appraised of industry trends, showcasing constant value and via sophisticated marketing capabilities.
Ecosystem members should inherently bring complementary capabilities, a collaborative and innovation mindset, domain expertise, and a drive to generate value. This type of 'network effect' harnesses the collective knowledge and potential of the entire ecosystem to achieve faster innovation and greater benefit for all participants.
2. What is the value proposition for each member to join your ecosystem?
When ecosystems are built, answering the "what's in it for me" question for every key stakeholder, membership and participation will follow, and the ecosystem will flourish. Certain members may be mission-critical to meet key objectives of the ecosystem, but there must be value for all other participants as well. Ecosystems present stakeholders with an open environment focused on leveraging disrupting technology solutions, career development, customer engagement, and the potential for significant revenue growth. Providing a place for leading companies with unique capabilities, a shared vision, and clear plan for the execution and desired outcomes, an ecosystem model will naturally thrive and reveal its value.
3. What expertise and workflows will assist each member drive value?
Essential to a successful ecosystem strategy is acknowledging that no one member can achieve the same outcomes if not for collaboration with other members, shared expertise, and created workflows to improve efficiencies. Without easy adoption and value-driven outcomes, it just won't work.
In the manufacturing sector, an ecosystem model, rich with subject matter experts and productivity bears fruit for any stakeholder seeking to train and educate other members; examples include:
Manufacturers providing training and collaboration for dealers and customers,
Suppliers training their OEM customers, and
Industry associations providing best practices and engagement for supporting their member organizations.
The ecosystem's collective knowledge can be harnessed and packaged via microlearning segments, periodic assessments, knowledge checks, and certifications, all delivered in a Learning Management System (LMS) to track progress against goals. These formal training and educational objectives are enhanced by the informal aspects of collaboration, networking, and information sharing.
4. Within the ecosystem, what tools and systems will guarantee a constant flow of dynamic information?
An ecosystem is a set of interconnected individuals, teams and organizations collaborating to achieve results. What helps to bind the ecosystem and its members? Relevant information is what keeps the ecosystem's heart pumping. Timely insights about the sector, the players within it, key trends that those in the ecosystem should be aware of – these are what help to build collective intelligence in the ecosystem.
The key here is to ensure the information is high quality, recent, and relevant. Any google search will confirm that there's no shortage of content available on any given topic. The challenge is that much of it is irrelevant or low quality. Ensuring that quality wins out over quantity means using tools to help filter and control the information flow. Curation tools, like Anders Pink (plugged into the FUSE platform) help to ensure this. By creating content feeds that (for example) feed in content about the marine sector, but only if they mention supply chain, and only from preferred sites and sources, we can ensure that the information flow is high quality.
Further, these tools automatically provide fresh content on a daily basis into the ecosystem, to help keep all members up to date on the insights and trends that matter to them in close to real time, saving them the effort of checking multiple sites and social feeds for fragmented insights.
5. How will the ecosystem enable the exchange of feedback and overall member interaction?
An automated, refined and dynamic feed of relevant information brings value to the members of any ecosystem. But value is increased when members interact with that information to add and share their insights.
This is sometimes referred to as collective intelligence. MIT define collective intelligence as "a property of groups that emerges from the coordination and collaboration of team members…collective intelligence is a good indicator of potential team performance and a far better indicator of success than any individual's performance."
Part of the key value proposition of the ecosystem is to foster and build collective intelligence of all members. To do this, the ecosystem should enable three things
Seeking: Make it simple to seek out relevant information (for example, through an automated content feed, or advanced search)
Sensing: Enable members to add their insights to make sense of content, e.g. I see that company X has acquired company Y: Here's what I think that means for us…
Curated content + member insights = value to the ecosystem.
Sharing: Enable and empower members to share their insights through commentary and posting. This is in part powered by technology, but just as important is creating a culture within the ecosystem where all insights are welcome and valued and expected, and there's no hierarchy or single dominant view.
Ready to take the next step towards building a high performing ecosystem for manufacturing? Join our webinar where we'll be discussing these topics in greater detail. Click below to learn more and register!
Learn more and register! Sources: