For over a decade, LogicBay has been delivering uniquely-crafted solutions to businesses and other organizations which need to streamline and improve communications within their ecosystems. We've worked with operations large and small, bringing them the tools and support needed to stay agile and effective within rapidly changing markets.
Our latest business case: bringing a highly effective training solution to one of the largest professional member associations in the world: The Association of International Certified Professional Accountants (AICPA) and the Chartered Institute Of Management Accounts (CIMA).
Meet AICPA-CIMA - The Heart of Global Accountancy
Initially founded in 1887, and later enlarged through merger, today's AICPA-CIMA is the largest business member association in the world, representing of the largest and most important professions in the world. AICPA-CIMA has over 650,000 member accountants, spread across 130 countries. They also partner with 70+ associated societies, universities, and other centers of learning.
LogicBay has worked with plenty of large organizations in the past, but this was certainly among the largest. The sheer scope of their operation rivals many multi-nationals, and their need to keep up with modern technology and techniques was huge.
The Challenge: A Unified eCommerce Solution For Providing Training Content
Along with maintaining international standards of excellence among CPAs another accountants, AICPA-CIMA has a strong focus on training and career development. Professionals join AICPA-CIMA for opportunities to advance their career. It was critical that the organization continued to provide top-tier classes, instruction, and customer service that would maintain their position as the premiere accountancy association.
Beyond the sheer scale of their operations, one additional challenge is that many of their partners - both members and partner organizations - lacked extensive IT staff, and did not have existing Learning Management Systems in place. They needed a solution which could provide monetized training to any of their members, anywhere in the world, through a single turnkey access portal which did not depend on local software support.
Ease of administration was another priority --
AICPA-CIMA needed to be able to track hundreds of thousands of individual users, providing relevant training courses, and managing professional certifications, while also being able to easily collect fees and payments as classes were utilized.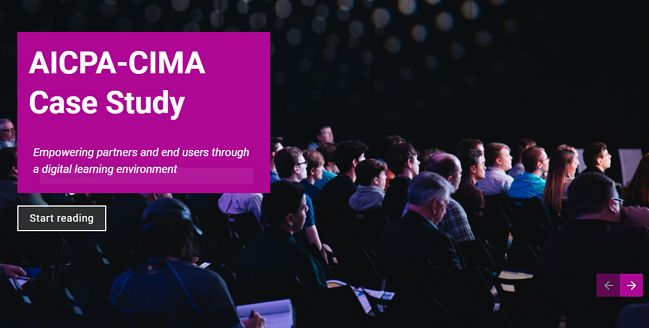 The Solution: An All-in-One Portal and Administrative System
Utilizing our advanced software tools and expertise in developing e-learning systems, we were able to develop a portal which did everything AICPA-CIMA needed. It could even be co-branded so that their partner institutions such as universities could incorporate the AICPA-CIMA web portal into their own online offerings.
AICPA-CIMA were particularly impressed with the ease of administration. Now that the system is in place, they will be able to quickly and affordably implement new content, or update old classes, to maintain high quality standards. The system also features superior scalability and will be capable of seamlessly supporting growth for many years to come.
As AICPA Senior Manager Mary Walter said:
"LogicBay has been great to work with as a true partner rather than just another vendor. With the LogicBay solution, we help our partners look good, reach their users, and deliver courses, content, and certifications, all while driving revenue for us and our partners."
For Future-Focused Ecosystem Communications and Training Solutions, Turn to LogicBay
We've helped numerous operations around the world achieve their goals of integrated access, flexibility, agility, and up-to-date communications, within a reasonable budget and with a focus on long-term implementations. If your operation is facing a similar challenge, click here to read our full case study on AICPA-CIMA. Or, for direct consultation, just contact us!