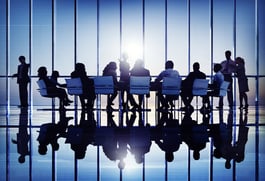 For well over a decade now, B2B companies have been considering whether CRM or PRM is the right software platform to support their sales and marketing initiatives. If this sounds familiar, there's a good chance you have long since picked a side.
On the one hand, there are those who think CRM (Customer Relationship Management) is an essential component of their business plan. Across from them are people who believe PRM (Partner Relationship Management) is vital for meeting their company's goals. However, there is also a third party: those who believe both are essential, so long as they're properly aligned.
The Difference between CRM and PRM
A CRM is what most companies start with out of the gate as they start to grow their business. After all, every company needs customers, so it must be important to manage your relationships with them. In fact, for companies that sell exclusively through a direct sales force, a CRM is probably the only system they need to support those sales efforts. However, the combined forces of the internet and economic globalization mean more and more businesses are relying on indirect sales partners to help them grow their business. This is where PRM comes into play: it is designed specifically to support the needs of an indirect sales channel in ways that a CRM cannot.
It's important to understand that while both do something very similar—manage relationships—they are not interchangeable. You can't simply use CRM to work with channel partners and expect that you have provided the tools they need to be successful.
READ MORE: PRM or CRM: Either of Both?
The Importance of Alignment
If your company is selling through partners, it makes sense to utilize both CRM and PRM and ensure that they are properly aligned
Lead management has become increasingly complex and in an indirect sales channel the complexity is multiplied. A CRM system works great for any VP of Sales to know what his/her pipeline looks like for the direct sales force, but what about having visibility into the pipeline of the channel partners? An advanced PRM system allows you to integrate with your company's CRM to provide a holistic view of your entire sales pipeline. Not only does this give you the ability to improve forecasting, but it allows you to provide the same targeted support for your partners at various phases of the sales cycle that you can deliver to your direct sales team. Automating sales support processes will help increase close rates, reduce the amount of time your partners need to execute a sales cycle, and improve profitability.
Partners Need Leadership and the Tools to Succeed
As your indirect sales channel grows and evolves in complexity, you'll realize that each one of your partners is going to have their own way of doing things. While CRM software helps you get an important perspective on your customers, this solution wasn't necessarily designed to take on the complexity of working with countless different independent businesses.
PRM software, though, helps you bring your partners into the fold. This is vital for getting the most out of an indirect sales channel. Enabling your partners with the tools the need to be successful, and collaborating with them on existing (and future!) business opportunities, is truly the measurement of partner engagement. Without the proper systems in place, this challenge may prove to be insurmountable.
Ultimately, your company may need both a CRM and PRM system to reach its potential. By bringing these two powerful platforms into alignment, you'll see that the whole is greater than the sum of its parts.
READ ALSO: Partner Management Solutions You Can Start Using Today