Sales channel strategies are about connecting your product to the market, but the unique way in which you implement such a strategy speaks volumes about your company and its products—good or bad. If you find that your strategy is airing on the not so good side, perhaps it's time to reconfigure your efforts and align your actions with the the products you are selling.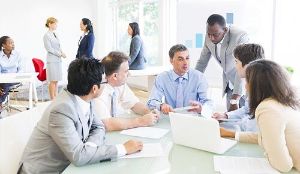 In this article we will go over a few of the things that your sales channels should say about your company, and what you might do if you discover a misalignment. Of course, these suggestions are not divine law: nothing can beat experimentation in the marketplace when it comes to tuning a channel-sales strategy. However, if you are just now starting to implement your sales channels or have found that your current strategies are not as efficient as you would have hoped, this list will be of great use.
1. The Complexity of Your Products
The particular channels on which you choose to sell your product ought say a lot about its complexity. Certain channels are effective at bringing simple products that fulfill simple needs directly to consumers, while others are better suited for complex products, which may require repeated touches with customers in order to bring about a sale.
If your business runs predominantly on direct-sales from your website or retail distribution, it is likely that your product is simple enough for these one-touch solutions. If your company finds itself doing well when working with third-party distributors, value-added resellers, systems integrators, or from your own in-house sales staff, it is far more likely that your customers need fuller explanations of what your product does and how it might fulfill a need for them.
2. Quantity of Your Product Lines
Just as your most effective sales channels can hint at the complexity of your products, they may also give clues as to how many products your company has to offer. For those businesses with large numbers of products, it often makes sense to sell at retail or through distributors rather than direct online or via a dedicated sales-staff. While this can potentially limit your control over upselling and cross-selling to customers, your partners are undoubtedly working overtime to specialize their pitches to particular customers––something that would be impossible to do when engaged in the direct-sale of hundreds or thousands of different products.
3. Relationship of Your Products to the End-User
If your company focuses on value-added resellers, it is likely that your product fulfills a specific need for other companies' supply chains. While some companies like this still offer their products to end-users, it often makes sense to focus marketing content and sales-team efforts on expanding into other verticals, rather than trying to figure out why end-users are not purchasing as much as one might want.
4. Relationship of your Company with Channel Partners
When companies find that their third-party distribution channels are flagging, as compared to that of their in-house direct sales teams, it is often a telling sign that their relationship with their partners is suffering, and that the training, incentivization, or certification of these partners may be inadequate. If this is the case with your company, be sure to look at what initiatives you have in place to ensure your partner's understanding of your product's value, and how they can properly convey that to potential customers. If necessary, consider refocusing your certification program to re-establish a connection with partners whose effectiveness has been flagging.
5. Whether or Not Your Company Values Experimentation
While it is incredibly important to find sales channels that work for your company's products and to continue to fine tune them, it is equally important to continually test new channels. If your company has several dominant channels that are steadfast and continuously achieving a high profit-margin, but also several smaller channels that are being swapped and reconfigured every few months, this shows that your company is properly engaged in the experimentation necessary to stay ahead in the market.
Hopefully with the help of these five points, you can now reflect on your own sales channel and discover what exactly it says about your company.