Welcome back! This is the second blog summarizing our recent webinar, Channel Certification & Enablement: Best Practices, featuring Paul Tobin from ChannelSAGE, and LogicBay's CEO, John Panaccione. The full webinar is available here, and includes some great details -as well as a tutorial video.
In Part 2 of our webinar highlights (you can find Part 1 here), we're going to talk about more practical matters surrounding certifications: How to enforce them, how to manage and track them, and how Partner Relationship Management (PRM) software makes it easy.
III. Enforcing Certifications
In many cases, the best way to enforce certification across your channel is to use both positive and negative reinforcement. In other words, you want both the carrot and the stick.
Positive incentives include:
Acknowledgment & recognition throughout the ecosystem.

Graduation ceremonies, potentially with vendor representative visits.

Reward points, physical trophies, or gifts.

Career advancement or increased pay.
There are often negative or penalty-based incentives to consider. Some of the most common options here are:
Restricting warranty reimbursements to work done by fully certified partners\reps.

Partner contracts that guarantee certain levels of employee certification, with penalties.

Tying sales commissions directly to certification.

Restricting participation in reward programs to certified reps.

Career advancement or increased pay. (This one works both ways.)
Please note: If you are going to use career advancement and/or pay raises to incentivize your certification programs, you must take accessibility matters into account. That is, issues such as guaranteeing accessibility for employees with physical disabilities, or those who may not speak English as a first language (for example, Spanish-language representatives). Failure to do so could open you up to lawsuits if employees in need of accommodation are left out.
IV. Managing and Measuring Certifications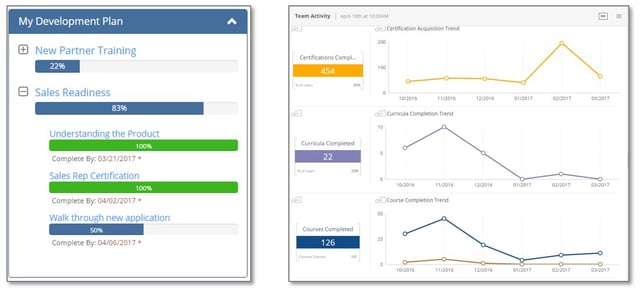 Fundamentally, the best way to manage and structure your certifications is to make up a set of training materials for each element you believe needs training, then create Individual Learning Plans (ILPs) specific to each job role within the organization. This allows you or partner-level managers to quickly assign specific training modules to the individual reps, based on their career path.
It's also usually a good idea to give managers leeway in allowing individuals to add "unnecessary" modules to their own training program, if desired. A sales rep probably doesn't need to know the technical specifics a repair rep would learn, but it would undoubtedly increase their knowledge of the product!
Communication is key. Provide plenty of notifications of new training opportunities as well as looming certification expirations. Have clearly posted requirements and expectations of every job role. Make it simple for individuals to sign up for training.
Tracking certification status. Essentially, the more information, the better. You should have access to full data showing certification status across regions, districts, and specific companies in an easy-to-read format. Ideally, this should be granular down to individual employee level.
Don't horde these reports. Distribute appropriate information to stakeholders and partners, particularly so they can track their own progress or be fully informed of issues. Partners shouldn't be surprised to learn of internal certification issues. Likewise, make it as easy as possible for individuals to view and manage their own development plan.
V. How PRM Simplifies The Certification Process
Training and certification is one area where PRM software truly shines. We won't say it's impossible to manage more than a few dozen individual reps manually, such as through database software… but it's very, very difficult. If your organization is aiming to grow into having hundreds or thousands of individual reps, at some point using software automation and dashboard systems will basically become necessary. Scalability is a huge factor in implementing certification systems.
With PRM, you can:
Create nearly unlimited online training modules.

Put together ILPs and attach them to job roles.

Set up customized dashboards for yourself, vendor managers, and individual representatives which give them full access to data.

Create detailed reports with charts and graphs showing the overall state of your training and certification program.

Track individual successes and automate reward or penalty systems based on performance, such as having automatic reward points distribution.

Automate all important messaging, such as upcoming certification or renewal deadlines.

Minimize the amount of time certification demands of individual reps, reducing the conflict between their need to train and their need to actually make sales.

Create followup tests to guarantee knowledge retention, with extra bonuses for those who show ongoing competency.

Scale upwards effortlessly, from a handful of partners to hundreds around the world.
Our Certification Toolkit includes three assets designed to help you develop your own certification program for your channel partners. Click here to learn more today!