Being a vendor at the top of an indirect sales ecosystem is a tricky balancing act. On one hand, your sales partners are independent, and always will be. Your control over them is limited. At the same time, you still want to do whatever you can to encourage and enable success. After all, in a very literal way, their successes are your successes. Plus, if they find your products easy to sell, that's all the more reason they should focus on selling for you rather than your competitors.
Fortunately, thanks to modern technology, there are more options than ever before for providing support for your sales partners – even when it comes to closing deals. If you have a software environment in place that makes collaboration and data-sharing easy, you have plenty of ways to provide real support to sales reps.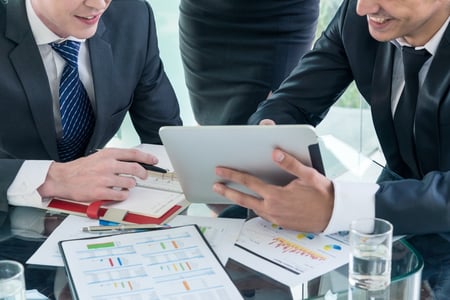 1. Leverage data to clearly define your buyers' journeys
Once upon a time, sales staff could safely follow a single script. Every sale looked pretty much the same. However, that's not the case any more. Today, a buyer's journey could begin in a half-dozen different ways, and meander back and forth across the "traditional" sales journey before finally arriving at its destination.
This can be problematic if your sales reps are working in a vacuum! They need to be able to know a lead's history with the company, and what steps in the buying process they've already completed. As a vendor, you have the opportunity to centralize much of that information, particularly when it comes to online interactions.
Do what you can do keep sales reps informed about a buyer's progress, so they are always ready to enable the next step in the buyer's journey – whatever that step actually is.
2. Make as much product and marketing information available as possible – and fast!
A good salesperson trying to wrangle a B2B buyer through a lengthy sales process knows that one critical element is always adding value to the deal. Ideally, every conversation the representative has doesn't merely push the buyer down the sales path, it also introduces new concepts and new benefits to the transaction being proposed.
You can't control what the reps say, but you can control the information they have access to! Create a central repository of technical information, case studies, marketing materials. Try to categorize it and make it easy to search for keywords or concepts. That way, whatever pain point is standing in the way of closing the deal, your reps should have information at their fingertips to resolve the issue and add further value.
3. Collect and collate successful sales data from across your ecosystem
One big advantage you have as a vendor is that you have access to the particulars of every deal being made under your umbrella. Leverage that information for the good of all your sales partners. Don't look for the most successful partners and agents simply for the sake of offering rewards – really dig into their methodologies, or even have chats with the star players, so that you can determine why they are so successful.
Then once you have that, you have a great basis for training materials or direct coaching of your under-performing partners. Rather than just telling them to shape up, you can present genuine real-world tips and case studies in how to improve their success rate selling your product. That sort of hands-on support can turn so-so partners into new stars of your ecosystem!
LogicBay Enables Easy Collaboration And Information-Sharing Across Your Ecosystem
LogicBay can create an all-in-one single-login source for everything you and your partners need for sales success! Our cloud-accessible portal combines customer tracking, data analytics, marketing and reference documentation repositories, training modules, communications systems, and more. It can radically streamline your ecosystem – and make you the easiest vendor to work with that your partners have ever seen. Contact LogicBay to see a full demonstration for yourself.