Research shows that close to 70% of the buying decision is made before ever engaging with a supplier. With this in mind, successfully managing your sales channel can be extremely complex. There are three notable trends to consider to stay ahead of the competition and achieve success with every market opportunity.
#1. B2B buyer behavior is changing the game.
#2. Mobile-ready technology is a must.
#3. Better data is helping guide us to make smarter decisions.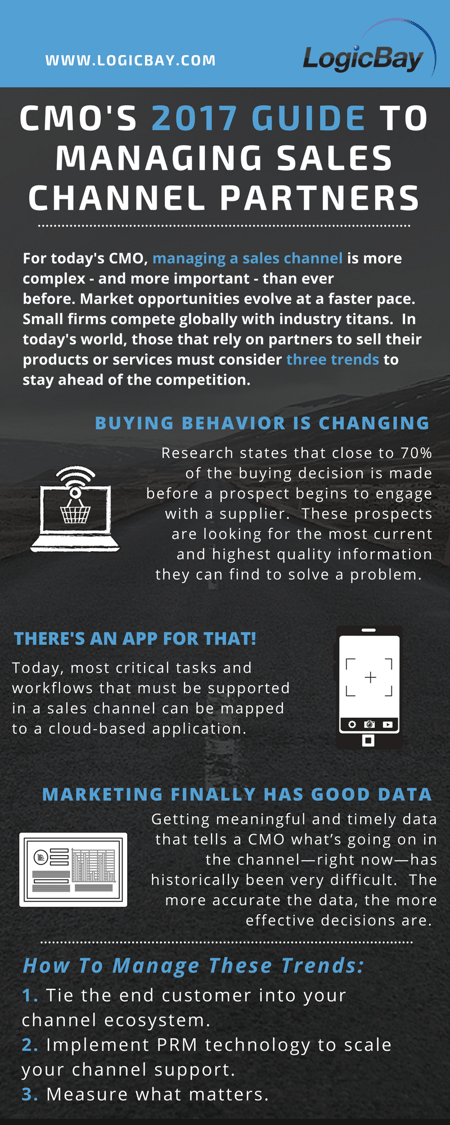 To read more details about the three trends and how CMOs can successfully manage each one, click here to access our Executive Brief: CMO's 2017 Guide to Managing Sales Channel Partners.
LogicBay's Partner Relationship Management (PRM) system was specifically designed to facilitate lead flow in an indirect channel. Quality sales leads need to get to the right partners - quickly. PRM technology provides a conduit between CRMs at the vendor and the partner level that allows for effective lead flow across the partner channel. PRM bridges demand generation systems with lead registration, distribution, and tracking throughout the sales channel. To learn more, contact us today!