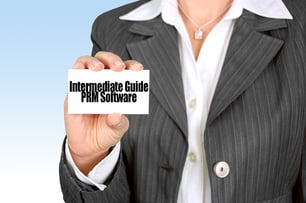 If you're reading this there is a good chance you already know what Partner Relationship Management software is. You may be evaluating the benefits of a PRM solution for your company or perhaps you've already started using it yourself to some degree. However, that may not mean you have a firm grasp on PRM software. Fortunately, the following explanation should prove to be both quick and effective.
What Is PRM Software?
Let's start here to make sure we're all on the same page. Simply put, PRM technology allows any company selling through an indirect sales channel the ability to support its channel partners through improved sales, marketing, and training support. As a shared application, the partners will be able to access the resources they need to be successful and collaborate with their vendors more effectively.
Partner Relationship Management software isn't just about communication though. Instead, PRM software also makes it possible to track how well your partners are supporting your brand. You can access analytics regarding their sales, MDF expenditures, training completion, communications and more.
SEE ALSO: Beginner's Guide to Partner Management
Using PRM Software to Educate
One of the most powerful uses for Partner Relationship Management software is to help educate those partners that are selling on your behalf. Many companies simply don't do this well enough. While better educating their partners would no doubt help improve sales and service results, it can often be difficult to reach a broad audience with effective material.
With PRM software, though, it doesn't have to be like this. You can deliver all kinds of training materials, from white papers to tutorials to instructional videos, in one location. This allows your partners to easily access the material they need and helps you track which partners are actively engaged.
This means that whenever they hire new sales or support staff, your material is already accessible.
Track Leads
Another extremely beneficial use of Partner Relationship Management software is for lead management. Complex sales channels invariably lead to channel conflict which can lead to brand deterioration. Having a way to mitigate channel conflict becomes increasingly important over time.
Lead management can work in two directions:
Delivering qualified leads to your partners (which happens to be the #1 request of partners, by the way)

Allowing your partners to register their leads with you for exclusivity or special pricing arrangements.
Having the capability to administer a bi-directional lead management program will provide you with greater insight into your sales pipeline and help you deliver the customized your partners need at each phase of the sales cycle.
Onboard with Ease
Although you may have some perfectly capable partners at the moment, you'd probably like even more in the future, right? Unfortunately, bringing new partners on board can be a real challenge. It's not uncommon for delays and inefficiencies to add weeks to the timeframe required before a partner can finally start getting to work for your company.
Now, if you have Partner Relationship Management software, this process can be simplified. You can support the business workflows your partners need at each phase of the application process and immediately have the training and onboarding documentation available for them once they are approved. . This sets the stage for your partners to understand from the outset that you are easy to work with and have the systems in place to deliver effective partner support.
This is just the tip of the iceberg where PRM software is concerned. However, it should give you an intermediate understanding of how powerful this technology can be for supporting your channel program.