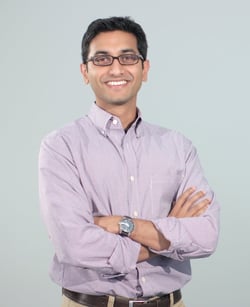 Imagine a world where Chief Marketing Officers (CMOs) spend more of their company's IT budget than Chief Information Officers (CIOs) do. Does that sound far-fetched? It might be a lot closer to happening than you think.
Gartner analyst Laura McLellan predicts CMO spending will eclipse CIO IT spending as soon as 2017. Amongst her key points was that, by 2011, the ratio of B2B and B2C marketing budgets to revenue (10%) was already more than double that of IT budgets to revenue (3.6%). McLellan also looked at 2012 figures, to point out that the projected growth of high-tech marketing budgets was outstripping the projected growth of IT budgets by more than two to one.
So what does all of this mean as we approach marketing in 2015?
Arjun Moorthy of HubSpot and John Panaccione, CEO of LogicBay, look to address this very question in their upcoming webinar, Disruptive Change: Inbound Marketing and Sales Channels. Before you go and register for the webinar, it helps to understand the marketing landscape and how it's changed in recent years.
The first point to focus on is the undeniable trend away from traditional outbound marketing methods - such as TV and radio advertising, cold calling, trade shows - towards more transparent, customer-centric, inbound marketing processes. Many of these outdated strategies just don't deliver as effectively as inbound marketing can - both in terms of sales and ROI. But inbound alone doesn't cut it either. The magic is in the mix - combining effective inbound to fuel more effective outbound techniques.
If you're a manufacturer that sells through independent sales partners, this understanding is critical to competitiveness in today's world. The number one marketing priority today is making sure your potential customers find you online when they're searching for solutions to problems they need to solve. From there, it's all about converting those visitors into leads, and transforming those leads into sales by tailoring every step of their buying journey.
As Hubspot's Arjun Moorthy eloquently summarized, "In an inbound world where buyers don't want to be interrupted but rather are the ones initiating interaction with a brand, agencies are realizing they need to offer content marketing services so that buyers find this content when researching a brand."
The Complete Guide to Channel Sales & Marketing - from my friend and resident visionary at HubSpot @pc4media http://t.co/H5Xvq5XaaB

— arjun moorthy (@juicemoorthy) February 27, 2015

The biggest driver for this is that inbound marketing, propelled by SaaS, is delivering indisputable results. "Of the 60,000 odd agencies in the U.S. we've only seen 2,000 adopt inbound as a core offering, but they grew on average 40% last year," wrote Moorthy in a blog post about the same topic as his upcoming webinar.
Another dramatic shift is the end-user's product knowledge in the marketplace. It used to be that end users of products in many industries relied on dealers and other types of independent resellers relied for the information they needed in order to decide what to buy. The more complex the product, the more that was true. Today, most buyers do their own research before engaging with a sales partner. It's happening in the B2C world as we buy cars, houses, stocks, and many other consumer products. But it's also happening in the B2B world. Fleet managers, sophisticated purchasing units of corporations, and individual business customers are increasingly doing their own research to at least narrow the possible field of potential providers of commercial products.
Click here to register for the webinar: Disruptive Change: Inbound Marketing and Sales Channels
As John Panaccione, CEO of LogicBay has observed, "Product complexity rarely stops increasing, particularly in the heavy equipment, high tech, and IT industries. Things that are complicated are hard to sell and service, particularly if you accept the fact that more and more buyers do their own research before engaging with a dealer. So the challenge we're seeing is that manufacturers need to do a better job of informing their customers first and redefining who does what in an indirect sales channel in order to be successful."
Inbound marketing is revolutionizing the way CMOs approach their array of tools and strategies for supporting end customers and the sales channel partners that sell and service their product portfolios. The inbound revolution is driving dramatic change in how indirect sales channels are supported and managed.
Join us on Wednesday April 15 at 2 p.m ET for an exclusive webinar featuring LogicBay CEO John Panaccione and Hubspot's Arjun Moorthy, entitled, Disruptive Change: Inbound Marketing and Sales Channels. Click here to register.