Below is a quick recap from Partner Relationship Management 101 - Part 1.
You can also read the full article here.
PRM software is an all-in-one, web-based tool designed to help manage and maintain partner relationships. PRM is easily accessible and ensures each user (vendors and/or partners) has access to the areas they need for success.
Common features of PRM software include:
A single access portal, often cloud-based, and available to everyone in your channel ecosystem.

A database of customer leads.

A centralized communications tool.

A central digital repository of all documentation and marketing materials.

Learn-at-your-own-pace training modules.

Data on your entire channel ecosystem.

A customized, data-based incentive program.
Now that we have defined PRM software and provided information on the common features, let's learn how using the tool can benefit your company.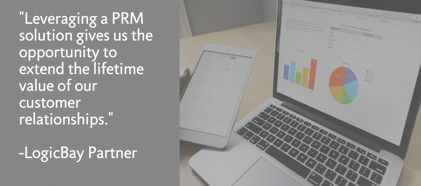 The Benefits of Using PRM:
Cost Savings: Virtually every aspect of partner management can be streamlined and optimized via PRM, vastly reducing time and money spent overseeing an ecosystem. PRM makes it easier to identify inefficiencies within the system, under-performing partners, and other issues which are preventing an ecosystem from achieving its full potential.
Partner Participation:

Partner recruiting

is difficult in competitive markets, as is maintaining partner interest and mindshare when that partner works with multiple vendors. PRM can be your "secret weapon" in the battle for partner participation by making you the most attractive and cost-effective vendor to work with.
Customer Convenience: Buyers expect even indirect sales systems to work like well-oiled machines, and can be quickly turned off by friction between vendors and partners. PRM greases the wheels, and ensures a

great buyer experience

during every interaction with any level of your channel ecosystem.
LogicBay Makes Managing Your Partners Simple.
LogicBay offers one of the industry's most robust and easy-to-use PRM platforms, along with a wealth of extra managed solutions that add additional value. To learn more about what LogicBay PRM can do for you, or to receive a free demonstrate, contact us today!
Looking for more about PRM? Check out our definitive guide: PRM Best Practices