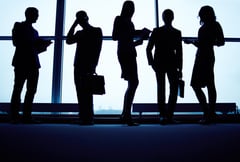 Successful companies benefit from leveraging their internal assets and working with business partners. It is a constant challenge to make the most of your partner relationships. Many times, you probably find that some partners are costing you more than they're worth. Fortunately, there are some effective partner management solutions you can begin leveraging right away.

Partner Relationship Management Software
Is there currently any business practice your company takes part in that isn't somehow augmented by using software? Most likely, the answer is "no."
Partnerships should be no different. Most businesses look to their CRM system to handle the communications and support needs for their channel partners. But a CRM is really built more for internal use or for a direct sales team. Perhaps even more importantly, the Enterprise license costs necessary to provide your partners with access to the CRM can be exorbitant. This is where a PRM system comes in to play.
READ MORE: 5 Things Most People Don't Know about Partner Relationship Management Software
Unify Critical Systems
One really great reason to start using partner relationship software is because you can provide access to all your critical partner support systems through Single Secure Sign-On (SSO). This is important to do for two main reasons.
First, your partners may already be using these systems and find them useful but it can be cumbersome and time consuming to have multiple logins. PRM acts as a traditional partner portal by providing access to these systems through a single login.
Secondly, this is a great way of increasing mindshare. Your partners will likely work with a number of other businesses, some of which might be the competition. One way to make sure you keep a favorable opinion with your partners is by offering them the tools they need to make their job easier. With partner relationship management software, you have the ability to earn your partner's undivided attention.
Analytics
Most companies have more data than they know what to do with. Too often, there are disparate systems at work which limits any company's ability from tying together important data to form meaningful and actionable information.
Partner relationship management software will provide you with some reporting tools to leverage the analytics your management team needs. We spoke in a recent article about the importance of establishing KPI and measuring your results in an ongoing basis. Having the business intelligence tools to draw meaningful correlation between important data points (for example, linking sales results to an incentive program) can be a game changer.
Training Materials
In many ways, your business partners will only be as successful as the tools you provide them with. This is certainly the case when it comes to a training and certification program. Some companies have very formal requirements and certifications, while others offer more informal 'self-service' material. In either case, you need to make it easy for your partners to access the information they need, when they need it, and make sure it is helping them sell your products more effectively.

To that end, make sure you're always providing your partners with updated training materials. For those companies who are more laissez-faire in the delivery of training material, you can still take advantage of the reporting tools available to have insight into which partners are actually signing in and accessing the material at their disposal.

Ask for Feedback
Earlier, we mentioned the importance of increasing mindshare. While there are a number of ways you can gain more of this, don't discount something as simple as asking your partners for feedback. Your relationship with your partner should go beyond just working together for shared interests. Look for ways to help your partners improve their bottom line. Doing this will only serve to help your company improve as well.

Asking for feedback on a regular basis is a good way to check in with your partners about what you could be doing to make the relationship even more beneficial for them.

Partner management solutions are essential for getting the most from your indirect sales channel. As your business evolves, so too will your partners'. Having a scalable solution that can meet these changing needs is critical to your future success.