So CMOs, how's your local ground game?
Increasingly, local-based marketing is becoming a major concern for nationwide brands. Buying behavior has changed dramatically to the point that consumers are making the majority of their buying decision before ever reaching out to a local supplier. This has taken away the ability for local providers to leverage product information - knowledge! - and has shifted the need for vendors to re-consider how to impact marketing at the local level. Even back in 2012, two-thirds of national brands were investing in local marketing, and that number has undoubtedly grown in more recent years. It's a move that's dictated almost entirely by consumer trends: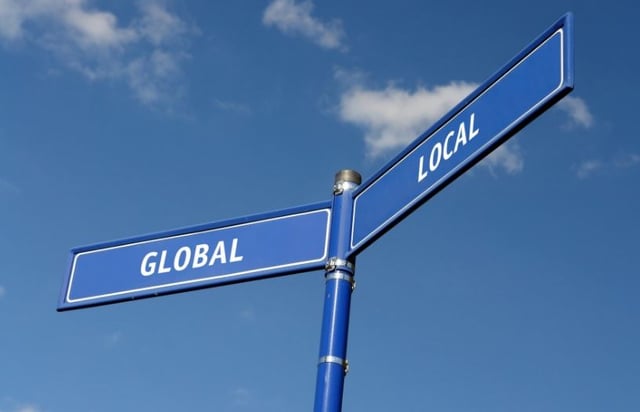 Honestly, we could fill this entire blog with cultivated stats on the subject and it would still only scratch the surface. The short version is that buyers - both private and professional - are increasingly influenced by content that helps them solve problems, with local and/or personalized influences helping to close the deal.
There seems to be very little reason to think these trends will change any time soon.
(Just think back to the last Super Bowl's commercials...)
For businesses that primarily or exclusively utilize indirect channel sales, this means it may be time for a reconsider how marketing is handled, and how they relate to their local partners.
Building National-to-Local Channel Sales Partnerships
It should go without saying that every brand/partner relationship is going to be different, based on the product and the market(s) targeted. There's no "magic bullet" here for creating stronger local marketing pushes. We do, however, have some suggestions to get indirect-sales businesses to start thinking more along those lines.
1 - Discover your local sales partners' marketing capabilities.
If you (or your Channel Manager) haven't had a chat lately with your sales partners about their internal capacity for doing marketing, it's definitely time to do so. This will give you a baseline to start planning your efforts, as well as helping ensure you don't ask more of your channel sales partners than they have the ability to provide.
2 - Do more local research.
The needs of buyers in California may be significantly different than the needs of buyers in Minnesota or Texas or Florida. Don't assume a one-size-fits-all solution for highlighting product value. This doesn't necessarily mean a major investment in market research firms; just distributing a survey for your local partners to give to their customers would be a great start. Look for what makes various regions or demographics different, rather than the same.
3 - Invest in content marketing at all levels.
As indicated above, local content marketing is quickly becoming one of the single most important aspects of product sales. Make certain all your channel sales partners have plenty of access to content they can use and repurpose in their own materials. It's almost certain to be worth spending your money creating these, when they'll generate more sales down the line.
Likewise, don't be shy about creating geo-targeted content marketing materials for your national website. These pieces will still be found in local searches, and can be used to funnel customers towards an appropriate partner. This will eventually create a new set of challenges: making sure you have the systems and processes in place to deliver leads down to the partner level in an effective and timely manner.
4 - Create channels for sales partners to share data.
If Partner A is having good results marketing to Boomers, and Partner B is doing equally well marketing to Millennials, they need a way to share strategies! A central repository, such as is created with Partner Relationship Management software, makes it simple for partners to share their successes with each other.
5 - Sponsor more local events.
From technology expositions to local sports teams, putting your name on local events boosts awareness for you and your associated local partners. Get in touch with them and see what events are coming up that you both might benefit from being associated with.
This is an area of marketing with huge untapped potential, and new strategies are waiting to be found. However a business does it, they need to be thinking local with their marketing and outreach. We recently updated our CMO's Guide to Managing Sales Channel Partners to discuss these and other trends in greater detail.