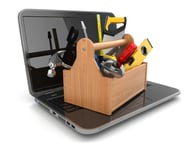 It's not too late to turn 2015 into a banner year for your company. However, in order to do so, you're going to want to use the best possible online tools out there for boosting sales. Otherwise, you'll need to implement some pretty sweeping and potentially expensive changes. Fortunately, any one of the following tools could easily become the most important tool your company has for bringing in sales.
Social Media Platforms
Whether it's Facebook, Twitter, YouTube, LinkedIn, Instagram or any of the countless social platforms that exist, don't be the company that appears as though it has no idea social media exists. Nothing will make your organization look more out of touch with the times then neglecting new ways to connect with your customers.
No matter what industry you're in, social media can help you extend your reach- and not just in the B2C world. Even B2B companies find social media an extremely powerful tool for engaging with their partners and promoting their products and services.
Invest in social media tools that will help you schedule posts, track analytics, and monitor what is important to your business. From there, you'll have a much easier time making the most of these free services.
Oktopost
Speaking of social media tools, it can be difficult to manage multiple accounts and stay on top of your market's interactions. This is why a tool like Oktopost is vital for companies trying to make the most of their social media presence. Oktopost is one of many platforms that can help you track your campaign and ensure your message is delivered with consistency.
BuzzSumo
You probably already know that good content is important for engaging with your audience. Like many companies, though, your problem may be trying to pin down what exactly qualifies as good content.
The answer is simple: good content is whatever your market wants, but finding out what that is can be near impossible without tools like BuzzSumo to help.
It couldn't be easier to use either. Just put a keyword or even a backlink into BuzzSumo and it will report on the top sources for that content. This makes it incredibly easy to know what to write about in order to produce more sales.
Mention
Another very helpful tool for influencing content is the aptly named Mention. Just tell the platform what you want it to look out for on the Internet. This would include your company name, those of your competitors, the products and services you offer and any other term you could talk about. Not only will Mention help you respond to conversations happening that you might be interested in; it will also allow you to offer timely content based on what your market is already talking about.
VWO
A/B testing is an important method for seeing what on your website is working and what needs to change. Studies have shown that over 95% of visitors to a website will leave almost immediately and never return. Use a tool like WVO to start cutting down on that number and getting visitors to eventually turn into customers.
With the above tools, your company's online presence could make 2015 your best sales year yet, giving you even more to look forward to in 2016.