With all the exciting things going on this holiday season, we have a couple of events on tap for next week that we want you to pencil in. The first, an educational eBroadcast hosted by Frost & Sullivan. The second, an online seminar that we are hosting along side our partner, MarketSource. Both events take place on Wednesdy, December 6th and we hope to you can participate! Read below to get more details.
eBroadcast: Top 10 B2B Marketing Must Haves for 2018
Speakers: Top marketers in the industry including LogicBay VP of Sales & Marketing, Seth Jacobsen
Date: Wednesday, December 6, 2017, 2pm ET
Register here:

http://event.on24.com/wcc/r/1533078-1/C08396555CB0613D78DFBDB675A21879?partnerref=lb.
Description: Account-based marketing, white papers, and events, oh my! With the seemingly unending plethora of initiatives B2B marketers can choose from, finalizing your 2018 strategy will take both research and creativity. If your brain is already in overdrive, fear not, we've done the groundwork for you! We searched high and low and gathered the 10 must have tactics for you to leverage in 2018 to propel your marketing organization towards success.
Online Seminar: Got the 80/20 Rule Blues in Your Sales Channel? Find the Cure with New Techniques and Technology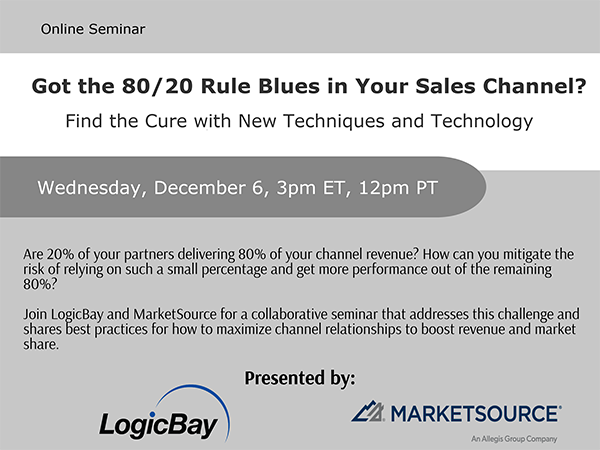 Speakers: John Panaccione, President & CEO, LogicBay, Steve Carlisle, B2B Practice Leader, MarketSource
Date: Wednesday, December 6, 2017, 3pm ET
Register here: https://tinyurl.com/y7qe3f6x.
Description: The 80/20 rule isn't a new concept, but emerging techniques and technology can help address this long-standing challenge across sales channels. Are 20% of your partners delivering 80% of your channel revenue? How can you mitigate the risk of relying on such a small percentage and get more performance out of the remaining 80%? Join

LogicBay

and

MarketSource

for a collaborative seminar that addresses this challenge and shares best practices for how to maximize channel relationships to boost revenue and market share.