As part of our continuing drive to keep LogicBay at the top of the PRM curve, and continue to provide you with the tools you need to most effectively manage your ecosystem, we're proud to announce the integration of Sisense business intelligence technologies into our dashboard system! (You can find the full press release here.)
What does this mean for existing LogicBay users? Simply put, it means your dashboard is about to become more flexible while also offering better ways to dig into your data for actionable intelligence, but without sacrificing ease-of-use.
In recent years, Sisense has been disrupting the Business Intelligence (BI) industry with their analytical products. Their robust systems allow even relative newcomers the ability to perform the sort of "deep digs" into their business data which would previously have required expert assistance. Sisense can work on large, complicated, or disparate data sets while constructing visualizations that are easy to understand. Hence why Sisense was our go-to choice when looking to improve our dashboard reporting.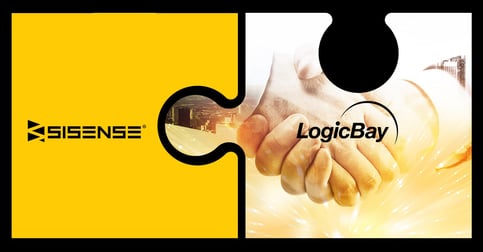 At LogicBay, we were facing the challenge of prioritizing resources: Do we focus on continuing to improve and refine the dashboard analytics, or do we keep looking for ways to improve LogicBay software as a whole with new features and abilities? Partnering with Sisense solved this for us in one swift move. Their insights into automated data analyses and visualizations could instantly take LogicBay's reporting systems to a new level, freeing us to focus on more systemic improvements.
Deep data analysis is desperately needed by many indirect-sales organizations. Trying to sort through data from not just one company, but potentially dozens or hundreds, is a huge task – but one Sisense is adept at handling. Rollout is continuing, but as we bring Sisense features to our LogicBay dashboard, users can look forward to:
A more user-friendly interface.

Deeper data-discovery capabilities.

Analytics tools able to deal with more data, from more sources.

Improved reporting and visualization capabilities.

Better predictive trend analysis.

Superior scalability with less lag, even when processing requests from multiple users.

An extensible architecture capable of customization.
As part of LogicBay PRM, you'll be able to share these features and insights with your extended ecosystem as you see fit. The data from your partners will be fed into the system, and in turn, they will be able to use it to analyze their own performance. The learning curve and adjustment period is expected to be minimal. The Sisense functionality will be wrapped in the same UI you already know; we're just adding more features and options. These will be discussed in more detail as the improved dashboard is rolled out.
LogicBay PRM Puts You On Top Of The Game.
To succeed in today's indirect sales environment, a vendor must be able to leverage data and business intelligence to find the insights necessary to keep their ecosystem optimized and growing. With the upcoming Sisense integration, LogicBay will be offering almost unparalleled ability to find those insights.
To learn more about LogicBay PRM – or the new opportunities Sisense will bring you – contact us directly with your questions!