When a company creates a product or service aimed at a certain niche market, it's easy for them to get caught up in the potential benefit to the end customer. They offer advice on using the product which may not be realistic, or that doesn't really mesh with on-the-ground experiences of those using the product. In short, they're focused on sales pitches over practical utility.
In the case of LogicBay, though, we've decided to practice what we preach, by supporting our own network of channel partners to help drive home the value of a PRM solution. We'd venture to say that part of the reason LogicBay offers such a strong end-to-end PRM solution for our customers is the services our partners offer - coupled with our PRM technology - to create a comprehensive channel program solution.
When a partner comes to us looking for a technology platform to help put their plans into motion, we can immediately demonstrate PRM as a use case, which in turn, helps inform their advice and strategies for their own clients.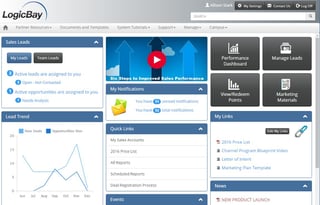 How We Deliver Superior Results For LogicBay Partner Companies
1 – Open Information Sharing
One of the cornerstones of our LogicBay PRM system is its potential for sharing information, materials, and reporting capabiltiies. LogicBay partners have full access to our library of technical documents, case studies, blogs, whitepapers, all available for co-branding for their own marketing efforts.
We realize that the more we share with our partners, the more successful they become and the more valuable they are in the sales process.
2 – Lead Sharing And Sales/Marketing Support
We make a strong push to develop leads via our website, blog, and social media materials – and qualify those leads to be shared with our partners. Partnering with LogicBay means getting access to qualified leads that have proven their need for channel technology and services. Likewise, we'll happily work with partners in joint marketing campaigns aimed at promoting both companies at once.
Our emphasis here is achieving success through the success of our partners.
3 – Ongoing End-Client Support
We aren't hands off with our partners either. If one is having difficulty understand the fit of PRM for a particular client's needs, or need additional consultation for tricky aspects of strategy, we're here to help.
It's that sort of support that leads to partners giving testimonials like "Our customers expect more than ideas and concepts. Partnering with LogicBay has given us access to a PRM system that helps provide tangible solutions for moving forward." (Raegan Wilson, Channel Squared)
4 – PRM All The Way Down
The nature of our technology - and its value to sales partners - is that it becomes part of the sales process. We use our PRM to improve relationships with our partners. In turn, those partners use LogicBay PRM to work with their clients. Those clients can then use the PRM to manage their own indirect sales ecosystem.
At every level, everyone involved is working with the same core PRM technology. This keeps everyone on the same page, fully informed about the utility and productivity gains of PRM as well as understanding how to best use the system. In turn, this makes it easier for them to implement PRM in the next link in the ecosystem, all the way down to individual sales reps at a client's partner organization. In the end, everyone benefits from the product while having a single unified solution at the heart of it.
And, of course, simple security and content-gating processes ensure all these different users and orgnaizations are kept separate. Each receives the correct materials and communication channels that is relevant to their role responsibility.
Practicing What We Preach
If you ever look at our blogs and wonder if we're actually using the same techniques we advocate, please rest assured that we are. That's one of the reasons we are so certain that our technology serves as a critical component of supporting our own channel partners.
For more information on how LogicBay PRM can streamline your business, or about becoming a LogicBay partner, please contact us for all the details.