We are proud to announce the release of Version 10.0 of our Partner Relationship Management (PRM) technology. This milestone release is the culmination of over thirteen years developing best-in-class PRM software to support all levels of sales channel development. Our continued growth and success has been founded on consistently listening to the feedback from our customers, and building the technology based on the evolving needs of supporting an indirect channel program.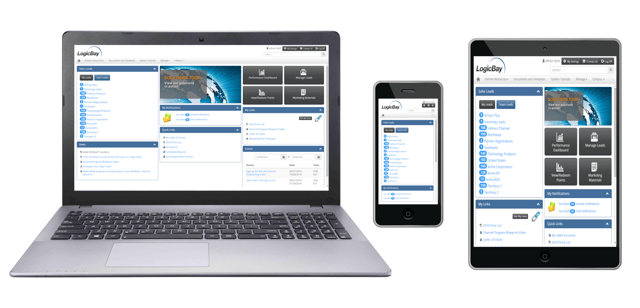 PRM On The Move: Welcome To Mobile-First Management
Version 10.0 features a true mobile-first focus for the platform.
In the past few years, there's been an absolutely unprecedented shift in workplace behavior towards the use of more mobile devices, and fewer stationary & desktop workstations. 2015 was the year that mobile browsing overtook desktop browsing in popularity. At least three-fourths of businesses are moving towards Bring-Your-Own-Device policies for network access. Use of smartphones and tablets is truly becoming ubiquitous in all areas of business.
Which meant Version 10.0 had to evolve to keep up!
LogicBay PRM is now seamlessly accessible for both vendors and their channel partners from anywhere, on any device. It's tailored for current B2B buying patterns, aimed at making sales as easy as possible in a huge variety of locations. Sales staff now have a tool that allows them to deliver the right information when it's needed, rather than risking a loss of sales by having to say "I need to get back to you on that."
But that's not all...
Easier-Than-Ever CRM Integration
Another major enhancement in Version 10.0 is improved integration capabilities with Salesforce.com services, one of the most popular cloud-based platforms in Customer Relationship Management.
Fully bi-directional integration allows vendors to share and update leads, with extensive access to metrics, tracking, and other benchmarks. Deal registration at the partner level allows automatic synchronization into the vendor's instance of Salesforce within moments, ensuring everyone in the ecosystem is fully up-to-date on everyone else's leads and sales successes.
Additional Enhancements to Tranining and Customization Capabilities
Additional improvements to Version 10.0 include:
Even better SCORM and TinCan compliant training and certification systems, making it the top option in PRM for integrated training modules.
Easier tailoring of user and manager dashboards to provide the exact information they need while on the job. This is especially useful for mobile users who may be working on small screens.
Improved branding and other aesthetic options for dashboards that are totally compliant with a company's branding standards.
Single Secure Sign-In options make cross-compatibility simpler, allowing the LogicBay dashboard to integrate seamlessly with complementary systems, without dealing with multiple logons.
Increased organizational setup options to segregate data and ensure the right information is getting to the right people.
Plus, we've revised our pricing plans to make it easier than ever for SMBs to get onboard with PRM early as they are building an indirect sales program, and immediately see the benefits of scalability as their sales channel grows. Even startups can now affordably see the efficiency improvements and growth-acceleration that PRM enables.
There's No Time Like The Present...
In short, LogicBay PRM Version 10.0 brings a wide variety of improvements to our existing clients, while creating more reasons than ever for new businesses to discover the benefits of PRM for themselves.
Just contact us today for a free demo, and you can see for yourself!