In the recently-released HubSpot State of Inbound Report 2017, video was named as the #1 marketing disruptor, with nearly all respondents reporting new interest and investments in video-based promotions. It's becoming more important than ever that indirect sales organizations find ways to integrate video into their promotions and marketing at all levels, from top-down to ground-level operations.
At LogicBay, we're well aware of this pressing issue and are thrilled to announce the latest feature integration to our Partner Relationship Management (PRM) solution, the Videonitch VN Channel distributed video-creation platform. (You can find the full press release here.)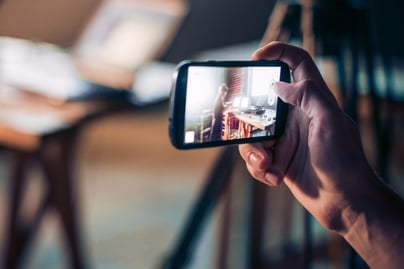 What Is VN Channel?
VN Channel is a cloud-based and highly secure platform for the management, creation, and distribution of video materials. VN Channel can have a wide range of uses within an indirect sales ecosystem, ranging from collaborative creation of new video marketing materials to even easier distribution of video-based training for your local sales offices. Further, thanks to VN Channel's robust playback software, there is no need to be concerned with format types. Videos within the VN Channel system automatically convert to run properly on any desktop or mobile device making it highly effective for on-demand video setups.
What Benefits Will VN Channel Bring To LogicBay Users?
With video bieng put at the forefront – we are making it simple for users to implement a wide range of video-based initiatives. Among the major benefits, you'll now be able to:
Crowdsource video content.

Anyone in your ecosystem can contribute to the creation of videos, allowing you to seamlessly integrate ground-level insights into sales and service trends with top-level messaging. Source video and audio can be uploaded directly from devices such as smartphones, simplifying the process of gathering raw materials.

Manage and approve content.

Review and approval workflows make it simple to oversee content in development, approve it when ready and see it quickly distributed to the field.

Assign appropriate content permissions.

Using LogicBay's source of record capabilities, you can ensure the appropriate content is seen according to each user's role within the organization.

Enjoy easy mobile access.

As part of our

mobile-first initiative

we began with the LogicBay v10 release, videos will be fully mobile-responsive and simple to access via any smart phone or device.

Track the success of your videos.

Whether training content, marketing materials, or anything else, you can track viewership numbers as well as user rating and similar feedback.
This new addition makes LogicBay PRM the top option in the indirect-sales industry for organizations looking to embrace video in a way which utilizes all the talent and knowledge found throughout their ecosystem. Properly implemented, VN Channel can revolutionize how your operation creates videos and how local offices use it in their own processes.
To learn more about VN Channel and how you can leverage it as part of your LogicBay workflow, please don't hesitate to contact us with your questions.