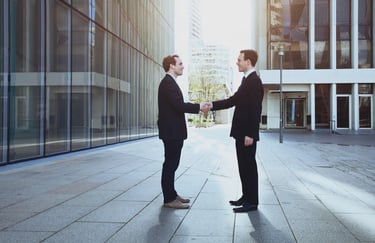 Having sales partners is a great way for any company to reach new customers and grow their business. Aside from the benefit of having a larger sales force, channel partners can also help improve your marketing efforts and provide valuable customer feedback.
That being said, not all sales partners deliver on their potential. You need to make sure that your working relationship with them is everything it could be. Here are some tips that can help you get the most out of your indirect sales channel.
Picking the Right Partners
Let's start at the very beginning. No amount of advice is going to help you if you haven't done enough research at the outset. As you build your indirect channel, the focus should not be on getting more partners, it should be on getting the right partners. There could be a number of reasons a sales partner turns out to be a bust, so the important thing is to always keep an eye on the companies and individuals you decide to work with.
Still, take your time with the application process and be selective. Spending the time to research each company thoroughly before deciding to take them on as a business partner will save you time and effort down the road.
Streamline Communication Methods
As with any relationship, quality communication is central to working with sales partners effectively. It would be a real shame if your business partnership failed simply because communication wasn't effective.
In the beginning of your relationship, figure out how communication will work between the two organizations. Generally, this means each party should have a primary contact, but it's also a good idea to exchange contact information for other key decision makers as well. That way, when time is of the essence, each side has a direct line to someone who has the power to make an important decision.
Use Software to Share Resources
Almost everything these days can be made better with the right software. The same can be said for business relationships. There's actually sales partner software designed specifically to help organizations who sell through an indirect sales channel. There are plenty of viable platforms to choose from, so take your time in considering which to go with.
One benefit every version should offer you, though, is the ability to seamlessly communicate with your partners. This includes the ability to keep your partners up to speed on best practices, know where they can access the sales and marketing tools they need, collaborate on opportunities, and solicit help when needed.
Don't Step on Each Other's Toes
It's important you have a proper understanding with each of your sales partners about who will sell what and to whom. In certain cases, your company may be giving some partners the ability to sell all product lines, while others have more restricted access depending on industry expertise. In either case, you want to have a formal understanding of the rules of engagement between your direct sales team and your channel partners to avoid channel conflict.
If this is a concern of yours, check out our recent Channel Conflict Whitepaper
Lastly, set some specific parameters around pricing. You'll want to make sure each partner is respecting any Minimum Advertised Pricing (MAP) policy so that your brand does not see price deterioration in the market.
Incentivize and Reward
Want to keep your partners happy? Offer incentives for outstanding performance. This is most often tied to sales performance but you can get creative in rewarding pre-sales activities too. Doing this is also a smart way to retain mindshare with your partners so that they think of you instead of your competition.
Great working relationships are key to getting the most from your sales channel. Each relationship is unique but all partnerships require basic factors for success as discussed above.