Are the technology options that can help scale your sales channel confusing you? Is the acronym soup that represents the hundreds of tools and systems designed for the channel making your head spin? On the heels of our recently released Executive Brief, PRM or CRM? The Right Choice for the Indirect Sales Channel we put together on online seminar that will help define and dissect the many moving pieces and technologies within a modern day sales channel.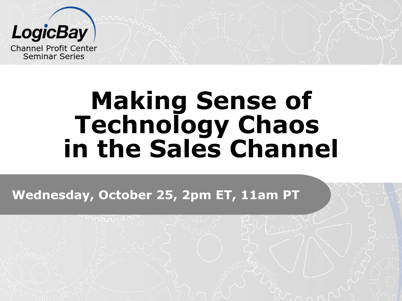 During the seminar, we will discuss specifically how to:
Create a cornerstone for all systems to work together, successfully.
Integrate and monitor multiple Customer Relationship Management (CRM) systems used by your channel partners.
Learn what drives cost, and how the Saleforce.com approach compares to alternative technology strategies designed specifically for indirect sales channels.
Apply best practices for implementing the most appropriate channel technology strategy.
If you are interested in learning more with the goal of paving a smoother path for your channel partners, we invite you to tune in Wednesday, October 25, 2pm ET (11am PT) for Making Sense of Technology Chaos in the Sales Channel, from the LogicBay Channel ProfitTM Center Seminar Series. Reserve your spot today!