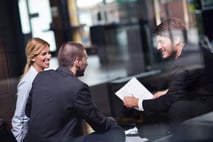 Most companies work hard to bring on a new sales partner in hopes of leveraging their resources and market reach to achieve greater revenues. In many cases, this vision is not always fulfilled. When your sales partners start performing below your expectations, these relationships can become a burden to your sales efforts. We have written extensively on the importance of a solid foundation of selectivity and planning as part of the partner application process, but even that does not guarantee success.
Fortunately, you don't necessarily have to part ways the moment things appear to be headed south. Instead, the following advice may be able to turn things around.
Talk to Them About What's Not Working
Most partners will appreciate an honest evaluation of where and how they are underperforming. This also serves as a good opportunity to ask your partners what improvements they envision making and learn how you can help in that process. Furthermore, be prepared to offer some actionable solutions of your own based on what you have learned from more successful partners.
Make sure you have the numbers to speak to your points. Telling them they're not reaching your expectations, or are just performing poorly lacks any real impact. You want to have the solid proof that the performance objectives you have outlined are not being met.
This is why it's so important you set concrete, objective goals for your sales partners from the moment you begin working together - and be prepared to adjust these on an annual basis. If you don't, for all you know, your partner thinks they're doing just fine. When you set reasonable expectations up front, then your partners will be much more likely to hold themselves accountable.
Implement an MDF Program
The last thing you probably want to do is give any money to your sales partners if they aren't performing. However, the problem could be that they really don't have the time, resources, or in-depth the knowledge about your brand to deliver an impactful marketing campaign.
MDF (Market Development Funds) could turn the tide for your partner. This is money you provide them with the caveat that it be spent on things that will help bring in more revenue. In this way, it's really an investment you're making in your own profits. An effective MDF program helps provide your partners with pre-approved communications and even helps lay out a prescriptive approach to helping your partners succeed. It is also a great way to support the unique needs of your partners. Some will have an approach dedicated to reaching their customers online and may need financial support with a PPC campaign. while others focus their marketing attention on events and workshops. These require a different kind of funding but both examples can be supported by learning more about how to make your partners successful and subsidizing those efforts.
Revisit the Arrangement
Your relationship with a sales partner should come with a contract. In that case, the objective terms we mentioned earlier shouldn't be a problem. That document should have outlined them clearly.
However, if you're in a situation where the agreement is open to negotiation or your contract terms are expiring, then now's the time to take a fresh look. Identify if there are areas to award performance related milestones at a more frequent basis (quarterly or semi-annually) rather than once a year. This provides ongoing motivation and can keep your partners focused throughout the year.
Cut Your Losses
Finally, don't be afraid to simply cut your losses. As with most business relationships, the ones that prove time and again to be more trouble than they are worth need to be eliminated. Expect that each year there will be a number of partnership arrangements that are not renewed and incorporate this into your strategy for adding additional partners as a result. Keeping your best partners happy can be a lot easier when you are not spending your time and resources on the relationships that are not profitable.
An underperforming partner is something to be expected as your sales channel grows in complexity. Don't view this as a failure, but rather be prepared for areas of improvement and turn this challenge into an opportunity.
Download our Channel Strategy Blueprint for a complete guide to how you can make partners as profitable as possible.