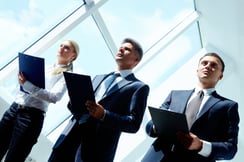 Your sales pipeline is vital to your future success, as it should be full of potential customers. Building a sales pipeline begins by nurturing a prospect and lasts until they finally commit to a purchase. Depending on your company, there are a number of different steps that exist between those two milestones. Constantly working to improve them is the best way to get more revenue year-in and year-out. Here are some effective methods for doing so.

Use Software
No company should have a sales pipeline that doesn't leverage software to gain insight into each phase of the sales cycle. There are a number of reasons for this. To begin it makes it easier to get visual understanding of the dynamics of your opportunities. From reports to analytics, it's so much simpler to quantify information about the health of your pipeline in the blink of an eye. These can even include marketing metrics (the number of visitors, leads, and marketing qualified leads) in addition to the sales qualified leads and opportunities that constitute your sales pipeline.
Software is also how you automate certain activities to nurture your prospects down the funnel as effectively as possible. Automation will free up your staff to concentrate their efforts where they can produce better results. It will also cut down on problems caused by human error.
Make Important Content Easily Accessible
If your marketing department produces quality product descriptions, case studies, white papers, etc. then streamlining the content distribution process will help you easily provide your reps with all the resources they need to educate their leads. Consider making a resource center for your sales reps where they can easily access this information based on the type and stage of the lead they are trying to close.
Tighten the Top
Taking a step back, your company could potentially benefit from a fresh look at the top of your sales funnel to see if the marketing team is doing the best job possible qualifying leads before passing them on to the sales team.
Bringing in too many unqualified leads will either overwhelm your sales team, deceive you into thinking a larger team is necessary, or provided inflated revenue projections. What you'll probably find is that doing a better job of vetting prospects at the beginning means higher close rates and more accurate forecasting.
Have Managers Jump in Earlier
A common practice amongst sales teams is for a rep to help usher a prospect through the pipeline only for a manager to jump in at the end. The idea is that a little help from someone so experienced may be all it takes to finally close the deal.
There are a couple of problems with this. First, that far into the pipeline should be the easiest moment to close. Reps really shouldn't need much help here. Instead, most will need a lot more help at the beginning when leads are first generated and nurtured. Not only will this approach lead to greater sales, it will also provide your reps with some great coaching opportunities.