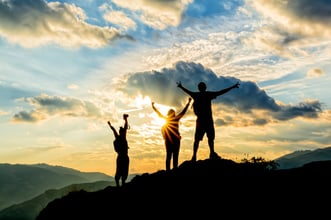 Many businesses look to increase annual sales revenue by taking on new channel partners. Aside from the increased sales this can deliver, incorporating partners into your business plan can help extend reach, improve marketing efforts, create new ideas, and accelerate new product introductions.
There's no guarantee you'll get the results you want from a partner, but if you're using partner relationship management (PRM) software, you have a useful tool for keeping your business partners incentivized.
Using Partner Relationship Management Software
Setting up sales incentives for business partners is nothing new. For as long as there have been businesses working together, there have been incentives to keep people on track and motivated.
That doesn't mean the old methods of doing things are still ideal though. If you were to go the "manual" route of running an incentive program for your business partners, you might actually need one or two people to handle the job, depending on the size of your indirect channel.
This is one of the many ways partner relationship management software can be of service. These platforms are designed to make things easier when it comes to working with business partners. While it can do this a number of different ways, one of those includes an incentive program tied to the goals you have set forth for your partners.
The Benefits of Automation
For many companies, purchasing PRM software is a great way to improve the efficiencies of your partner support processes for the automation it can provide. Simply put, the more you automate, the more you will alleviate the burden of time consuming administration and free up your internal team to focus on strategic efforts.
While automating processes has it's clear benefits, it should be noted that a system of checks and balances should be factored into the equation. Most manufacturers that offer a rewards program tied to sales or training initiatives still want to apply a manual process to confirm that fulfillment and incentive payout is audited on a periodic (typically weekly or monthly) basis.
Understanding Sales Incentive Programs
It's important to note that there are at least a couple of different sales incentive programs that may be appropriate for your business. First, there's the kind we've based this article on: you pay out bonuses or rebates based on your partner's proven sales. This essentially works like a commission. Sales incentives can also be tied to meeting quarterly or annual quotas to further motivate partners to keep their eye on longer term goals.
Other areas that manufacturers frequently tie into their incentive program is completion of specific training or certifications. This can be a great way to promote up to date knowledge of your products and keep your partners accountable for these efforts. A highly-trained indirect channel is often a leading indicator of strong sales results. As with the sales incentive, automating the rewards process is similar: simply capture the completion of a specific certification program and allow those points to be credited to that partner's account whereby he/she can redeem them at any point for gift cards, merchandise, or company-related items.
Running a Successful Sales Incentive Program
In either case, you need to spend time explaining the benefits to your business partners. Even if you have the highest quality PRM software and it is automating the incentive program, this won't produce the results you want if your partners aren't 100% on board. Be sure to answer any questions they may have now, so your program will stand a better chance of succeeding in the future.
Would you like to see more sales this year? If so, a sales incentive program is worth pursuing. By looking at a PRM solution to help automate the process and get your partners on board, there's no reason you can't expect big results.