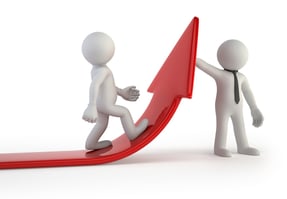 When it comes to sales partners, most companies work hard to bring on as many as they possibly can. After all, the thinking goes that the more partners you have, the more sales you'll see as a result. Unfortunately, this isn't always the case.
There's no right amount of partners that works out for every single company out there. Instead, have a selective application process for new partners and set firm guidelines for evaluating existing partners in order to optimize channel performance. Here are some common problems to watch out for.
A Sense of Entitlement
There's nothing wrong with having a healthy dose of confidence. In fact, you should look for this in any business or individual you decide to partner with. If they don't believe in themselves, there's no reason you should.
However, you also want a partner who is going to be willing to work for their stake. Be wary of any partner who acts as though they're entitled to their returns or a higher percentage than you would have offered others. Again, they may be justified in their demands, but it's vital that you set the parameters for success and uphold these expectations across the board.
Poor Producers
This one is extremely obvious. If you have a business partner who isn't pulling their weight, it may be time to part ways. There could be a variety of reasons a partner is underperforming but eventually it is time to move on. Having relationship management software is essential for keeping track of this. It makes it very easy to not just track returns in real time, but also compare this revenue with that of other companies you partner with.
Just because a business partner is producing results below the other businesses you work with doesn't necessarily mean you should cut them loose though. Consider the ROI of the relationship. If this partner does not require a lot of attention from your sales and support staff it may still be a profitable relationship. Despite profitability, you may want to speak to them about ways to improve their results.
Questionable Practices
Everyone has their personal take on how best to sell to customers. However, it should never involve being dishonest or implementing shady practices. Even though you may not be directly involved, if a partner is engaged in something illegal or simply unethical, your good name could get dragged through the mud as well.
Whenever you partner with a company or individual, take some time to get to know them and how they conduct business. Then make sure they understand your expectations for how they'll operate. If you see anything that worries you, speak up immediately.
Poor Communication
As we touched on earlier, the right software can make a business relationship much more effective in a number of ways. Communication is one area for continuous improvement.
If you notice poor communication from a business partner, that's a sign that they are not as actively involved in supporting the business relationship. Just like with any partnership, the success is based on quality communication. All kinds of opportunities may be going missed because a partner simply isn't paying attention or speaking up when they should. The more partners you bring on board, the easier it is for poor communication to hinder performance.
Taking on more and more partners can often be a sign that a business is really doing well. Unfortunately, too many partners can also sink a company in record time. Use the above tips to keep an eye on those you're working with to ensure they keep operating as a benefit, not a burden.