Companies with a large distributed sales channel (reps or distributors) often come to us struggling with how to grow sales and manage the channel effectively. Under performance is often caused by a disconnect between the manufacturer or service provider and the realities of the buying environment. In an age of information parity (buyers often have as much information available to them as the salesperson) successful companies drive interest and engagement in ways that match this change in buyer behavior.
There are two particular stats that help to illustrate this point: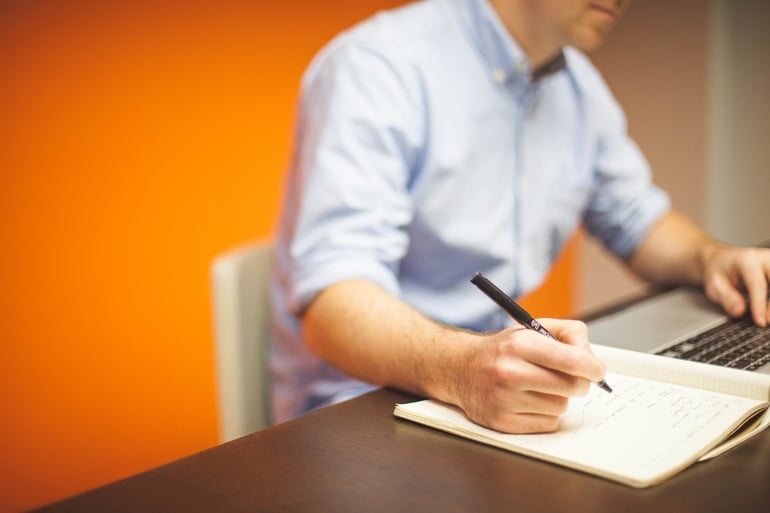 Stat 1: 93% of B2B purchases start with an Internet search¹
Stat 2: 74% of buyers choose the company that is first to add value as they are defining their buying vision²
We have found that the high level strategic goal required to match this buying behavior change is to get found online and establish your thought leadership. Ideally you want content in front of buyers that illustrates to them how your product/service helps them better serve their buyers. The corresponding, high level first step to reaching this goal is building compelling, solution based content.
Goal: Get found online and establish your thought leadership.
Step 1: Provide your B2B prospects with solution based content like application stories, case studies, and white papers that help them do their jobs better.
The goal requires a strategic commitment from the manufacturer or service provider to understanding the buyer behavior changes and a willingness to adjust marketing and sales strategies accordingly.
Getting found online requires a strong digital strategy based on knowing your target persona, understanding their buying journey, and creating great content that reflects that understanding. Accordingly, the next step is then to promote your digital assets in the places your target personas go to find information.
Getting found requires the right tools, team, and a commitment to the strategy. It requires a long term understanding that your database and digital footprint are two of your most prized business assets.
So let's assume you commit to step 1. How do you empower a channel of reps and distributors to take advantage of this strategy?
Educate
Stats 1 and 2 apply to your channel partners as well as to you. Many reps and distributors are not actively using content or digital marketing to connect with their audience. If they are forward thinking they may have a website with a list of companies they carry with links to some catalogs. Very rarely do they have anything that would address the real buying changes demonstrated in stats 1 and 2.
Does a catalog list of products really add any value to a buyer looking for a solution to a problem? Try searching for a specific product online, lots of options and a variety of prices. Which is why you need more than a list of product numbers and prices to stand out from the pack.
Your channel partners need to be educated on the buying changes and develop plans to adapt. Channel partners needs to be able to see your commitment to getting found online. They also need to understand that they both have a role in helping accomplish the larger goals and benefit proportionally from commitment to those goals.
Emphasize
Buying channels partners need to be treated as buyers of your products of services. This means that you should market to them as well to the end users. If you focus on getting found and being helpful online, then they will be forced to react. Once you teach them the strategy and principles that you are employing to further this goal, then you can create an engagement program for them to stay connected to your marketing.
Share your plan and tactics with the channel every time you make a chance. Add marketing training and updates to regular update calls and training meetings. Make your marketing team available to them. Bring in outside resources to help them get found online and engage with prospects in the digital world.
Channel partners can be successful getting found online, but they need the motivation and resources to do it well.
Enable
Build white label campaigns for your channel partners based on your persona and buyer journey research. Like my wife says to me "I need to put the dots pretty close together for you sometimes". Make it easy for them to run a content campaign and they will have no reason not to. This is especially true once they begin seeing positive results.
Build a campaign and 'white label' it for them to brand as theirs or co-brand with you. Some general campaign ideas include:
Create a whitepaper answering a big question you hear from your customers (how to….for example)
Build a series of 4-5 emails that promote some aspect of this offer
Build a landing page on your site to capture conversion on the offer for the whitepaper and share the leads with the channel partner
Build a series of lead nurturing emails that follow up with any converted lead
Create social media messages for Twitter, Facebook, LinkedIn
Write a press release that the channel partner can send to the local or regional press
Create supporting videos for sales people to share with leads as part of personal follow up to the leads
And anything else you think will be helpful to the customer or to the channel sales people.
There are many benefits of getting found online and being helpful to your prospects as they begin the buying process. Educating, emphasizing, and enabling your channel partners will multiply your return on investment and help you achieve your 2016 sales goals.
[1] http://blogs.imediaconnection.com/blog/2010/10/26/how-to-use-social-media-to-generate-b2b-leads/
[2] John Lombardo, LinkedIn, http://www.mediaweek.co.uk/article/1325678/clients-need-trusted-partners-help-navigate-content-marketing