In the last blog, we noted that SEO and content marketing seems to be slipping down the ranks of importance in terms of building leads – but it's still a solid and very popular form of lead generation. Also, some of the alternatives growing in popularity, like live events, may be too pricey for many small and mid-sized businesses. So today, we'll focus on stats related to helping you and your partners create effective content. Let's get into it!
1. Less than one-third of businesses see blogs as driving conversions.
This one isn't much of a surprise if you've been paying attention. The Internet has gotten so saturated with blogs that they're often interchangeable – and that's reflected in numbers from Ascend2 which show blogs as being in fifth place among types of content driving lead conversions. Only 31% of businesses reported that they get the most lead conversions via blogs. The winners? 46% cited research reports, 44% said it was video, 42% focused on social media, and 40% won conversions via webinars.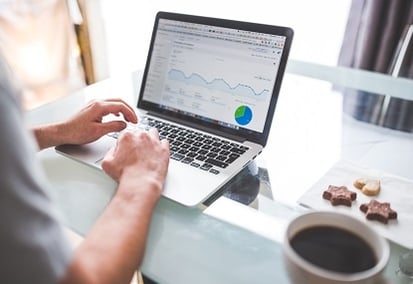 You can't abandon your blog because they're vital for SEO. But it seems like more businesses are starting to treat their blogs solely as SEO fuel, and that is only going to further depreciate blogs' value. In the meantime, look to produce better materials like research reports and videos which can be shared among your ecosystem.
2. 45% of buyers value thought leadership.
Thought leadership is one of those things that gets talked up a lot, but is rarely defined -much less studied. An Edelman\LinkedIn study tried to remedy this, but asking buyers about the effect thought leadership had on them. The results were… interesting. 45% of buyers said that a company showing thought leadership had led directly to a purchase decision, and 88% reported an increase in admiration for certain companies. But at the same time, 45% also reported that they had seen decreases in their admiration for other companies, and another 30% said examples of thought leadership had led them to NOT do business with a company.
Now, this is hard to break down without knowing more specifics, but broadly speaking I'd say the gist is – if you're going to seriously engage in thought leadership, be aware that you're going to drive away people who disagree with your conclusions. If you're trying to target your marketing, this could be a good thing, but if you're casting a wide net it might be better to play it safe.
3. More than 2/3 of businesses are experimenting with personalization.
If you haven't started looking into better personalization for your content, such as via marketing automation, it's high time. Chief Marketer shows that only 32% of businesses haven't begun looking at personalization. The most common (66%) type of personalization is also the most obvious – watching types of content engaged with, and looking to provide more of that content to each lead. There's also a lot of interest in targeting job functions (53%).
Buyers need content that they feel is relevant to them. In our view, this is bordering on axiomatic at this point. You're going to have better results from content marketing if you can successfully target key buyers, rather than trying a "be all things to all people" approach.
4. Video is no longer gated content – only 15% of businesses treat it as premium content.
Finally, here's an interesting tidbit from Demand Gen Report. When leads hit landing page offers, those offers are far more likely to be white papers (52%), ebooks (50%), or on-demand webinars (47%) as their gated content. Only 15% still gate off their videos, which is just another example of how ubiquitous and necessary video content production has become. Video isn't a premium any more. It's expected.
Get More From Your Ecosystem With LogicBay.
We are industry-proven to help indirect-sales systems both large and small solve the challenges which are inhibiting their growth. No matter where your ecosystem currently stands, or where it needs to go, our combination of technology and human know-how can help make it happen!
Contact us today for a free personalized demonstration of our system in action.