Did you know that a B2B buyer is most likely to purchase the first solution they come across? Most research they do is probably just to fill in information, and make sure that their first choice will be an adequate pick. They are rarely going line-by-line through lists of statistics trying to minmax their purchase; they just want something that will work.
Today, we wanted to expand on that idea a bit more. How do you create a situation where your product/service is likely to be the one which B2B buyers see first when they begin their buyer's journey? How can you work with your channel partners to make this happen?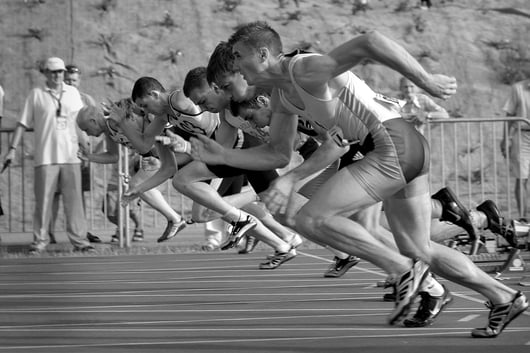 Nothing is certain when it comes to this sort of "preemptive marketing" but here are some tips!
1. Target social influencers.
The absolute best case scenario for capturing a new lead looks something like this: The lead is not even aware that they have a need or problem, but then they come across a post from a social media figure they trust talking about a new solution. This is the platonic ideal of "organic" social marketing. The lead doesn't feel like they've been marketed to, but the idea has been planted in their head that they have a problem in need of a solution. Your solution.
Making this scenario a possibility requires stepping up your social media game – both your own and, hopefully, your partners'. Look for opportunities to make contacts among prominent social influencers in your field. Network at trade shows and conferences. If it's appropriate to your target\market, think about sending products to influencers for them to review.
2. Engage in targeted SEO.
Proper Search Engine Optimization methods are complicated, so we can only touch on the strategies here. Basically, the goal is to have articles, videos, or other content which are already in place before a customer thinks to run searches relevant to that content. Most importantly, think in terms of questions!
Say your product helps improve security in Amazon cloud accounts. A cloud manager might Google questions like "How do I improve AWS security?" or "(What are) ways to keep my AWS cloud safe?"
You should have content already answering these questions so that, hopefully, they're among the top results the lead sees in Google. It's even better if you can manage to get a question/answer in one of the info-boxes at the very top of a search result. However, achieving this requires Google to already consider you a highly reliable source, and that is a hard goal to achieve.
3. Avoid buzzwords in your content.
B2B buyers are often scared by buzzwords and jargon, yet they're extremely common in online marketing. This is particularly true in tech circles! Companies write buzzword-filled webpages because those pages look impressive to them, or were impressive to their investors – but they don't think about whether it's actually appealing to buyers. You won't buffalo many targets into buying just by throwing big words at them.
You can stand out simply by having a content which everyday human beings can read and understand. Keep your buyer-facing materials (particularly top-of-the-funnel materials) straightforward and down to earth. Make clear claims about what your product/service actually does, and if at all possible, back it up with hard data.
High level execs might like to go around talking about how they're solutioning paradigm actualization targets but it won't convince actual money men to hand over any cash.
Keep Your Ecosystem's Messaging On-Point With LogicBay
Among the many features of LogicBay's PRM system, it includes modules for both collaboratively creating and storing marketing materials. This creates a single easy-to-access repository which ensures every partner has access to the most up-to-date messaging – and makes it much easier for you to put your content in front of buyers at the earliest opportunities. Contact us today to learn more.