No list of tips for improving buyer engagement is complete without discussing communications strategies… but many vendors don't realize that the same basic strategies and techniques can work just as well with your sales partners!
After all, engagement is just as important with shops inside your ecosystem as is it with buyers. Unless you have dedicated sales partners, you're constantly competing for mindshare. You need to give them reasons to be excited about selling your products, rather than competing products. Improved communication strategies is a great way to build that mindshare, and keep the sales staff engaged with your products.
Here are a few communications strategies to try out which should work at least as well with partners as they do with customers.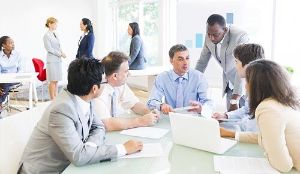 1. Surveys
We're big fans of partner surveys because – as long as you don't do them too often – they're basically a guaranteed win-win proposition. On one hand, you get all kinds of valuable data and insights into the functioning of your ecosystem, which you can use to improve efficiency and your partner experience. On the other hand, surveys are great for helping your partners feel valued. This is particularly true if you can occasionally point at areas where you've changed/improved your processes based on their feedback.
(And always make sure to mention when this is the case!)
2. Videos
Everyone loves videos, and sharing them with your partners will help build rapport between you and them. Plus, it can be useful, entertaining, and educational. Even if you've got no extra budget, simply sharing good informational videos will build engagement. However, if you've got some spare resources from other video-creation projects, consider making some videos specifically aimed at your partners.
This will help you stand out, as well as being a clear signal that you're genuinely willing to invest in your partners rather than taking them for granted.
3. Social media connections
Undoubtedly, you're already encouraging your workforce and your sales partners to leverage social media for content marketing and lead-building. However, are you also looking to connect with your own partners on social media? Besides the obvious networking advantages this brings, it's also a good way to communicate with them in a more informal environment, or simply see what they have to say without the burden of it being "official" vendor\partner communications.
4. Countdowns
Countdowns are one of those tools which are great at creating interest and excitement, as long as you don't do it too much. When it comes to partner relations, countdowns are best for introducing new products or initiatives. If you can get your sales partners to be excited and interested in new releases, you can be certain they'll be passing on that same level of excitement to their own customers.
Streamline Your Partner Communications With LogicBay
Of course, great partner communications require a platform capable of supporting them – which is why we've designed our LogicBay software to be the communications hub for your entire sales network. It can host emails, chatrooms, videos, training materials and more, all in one cloud-accessible system. There's no better way to simplify communication between yourself, your partners, and each other.
Of course, that's only one small part of the overall LogicBay methodology. Contact us for an exclusive demonstration of everything LogicBay can do to help build your ecosystem.