Are you encouraging your sales partners to adopt mobile-friendly websites, apps, and systems? Are you also embracing a mobile-first perspective? If not, it's high time you did so!
The Rise Of Mobile Usage
Usage of mobile devices – including smartphones and tablets – to browse the Internet has been growing since the first iPhone. 2016 was the year that mobile browsing overtook desktop browsing in terms of hits. It was also the year that the Earth saw more smartphones than people.
With each year, more and more buyers across all demographics embrace mobile online usage. In fact, they're coming to expect it. Failure to provide mobile-friendly sites to buyers is literally risking 50% or more of possible sales.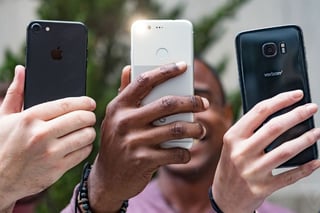 Responsive Website Design Is Key
If you have a moment, try bringing up a few of your partners' web pages on your smartphone. How do they look? Does it present a cohesive experience, with all the same options you'd have if you were browsing on desktop? Does it smoothly reorganize itself based on whether you're holding your device in landscape or portrait mode? Or does it render poorly or – even worse – refuse to load at all?
Responsive website design means building websites which are device-agnostic. They can automatically reconfigure their layout (from preset templates) based on the size of the device. Anything from 4-inch micro-smartphones to 40-inch smart TVs (or bigger!) can be supported. This style of web design is an absolute necessity if you're going to successfully capture mobile-focused buyers who expect a positive experience on their mobile devices. On top of everything else, Google has started expressly pushing websites which are mobile-friendly towards the top of their search results. Mobile-unfriendly websites could even be harming your partners' SEO and preventing them from being seen at all!
Encourage Mobile-Friendliness By Embracing It Yourself
Moving towards a 'mobile-first' attitude can be a slow process for organizations which are heavily invested in their previous website designs. However, it's a changeover that needs to happen. It's good for your buyers and your outreach, but it's also good for your ecosystem!
A mobile-focused indirect sales organization is one that can be quicker to respond to change, and more agile in passing information between various members. Having software in place that allows your partner sales staff to access crucial information at any time, from anywhere, is going to be key to making sales in the years to come. As buyers continue to experience ever-shortening time frame demands, they're going to look to sources who can keep up. Moving your ecosystem towards a mobile-focused workflow makes that a reality.
LogicBay Goes Mobile!
With the release of LogicBay Version 10 last year, LogicBay dedicated itself to mobile-first solutions. Our technology is still fully accessible on desktops and laptops, but it's been redesigned to be mobile-friendly. You can manage your ecosystem from anywhere, using only your smartphone, and so can your partners! Contact LogicBay today to see a full demonstration of LogicBay 10 in action!