The HubSpot State of Inbound Marketing Report was recently released and we've been pouring over it, looking at the latest insights. This year, what really caught our eye is their section on disruptors. We're seeing a huge influx of new technology, new ideas, and new buyer trends which are forcing marketers scrambling to keep up, and unsurprisingly the Hubspot report talks about that in some detail.
Over the next two blog posts we will cover new buyer trends and what they may mean for the marketing campaigns you and your partner companies put together. After all, even the best tools for collaborative indirect-sale marketing won't do any good if the strategies are behind the times. Let's start by examining new technological marketing changes.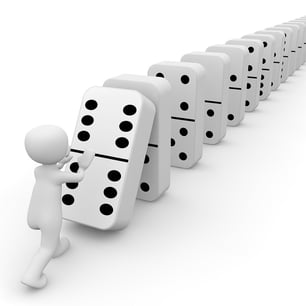 1. Video. We've been talking a lot about video strategies in the past year, so it's gratifying to know we are on the right track. Video was consistently cited among HubSpot's respondents as the biggest disruptor in marketing. Video is now seen as both a conversation-starter, as well as an important teaching tool – many buyers now prefer to educate themselves via videos.

Video rules of thumb include:
Offer a variety of different video types and formats

Be honest, authentic. Your video doesn't need to be over produced.

Avoid 'one-size-fits-all' solutions

Emphasize enjoyability over 'in-your-face' promotionality
2. Social Media Churn. Another constant source of stress for marketers isn't social media marketing per se, but rather the incredible pace at which the social media landscape changes. Facebook remains huge, but is no longer nearly so well-respected. Twitter is coming to be seen as political, not productive. Previously-niche venues like Snapchat and Instagram are gaining traction. Finally, chat-based apps like WhatsApp are quickly booming and may hearken back to the days of AOL Instant Messenger as a connection tool.
Marketers invested in social must be keeping constant tabs on user numbers and demographics to ensure they're targeting the networks that contain their key market groups. And if those users ever migrate to another system, they must migrate with them ASAP.
3. Virtual Reality (VR). 2016 was supposed to be the year that the public enthusiastically embraced VR, with at least four major hardware releases. In reality, the response was unclear. Technophiles leapt happily onto the bandwagon, but everyone else is largely taking a "wait and see" approach.
With upwards of six million VR units sold in 2016 and continued slow growth expected in 2017, it wasn't a failure either. If you have a tech-focused user base, there's big potential there. Think about 360-degree videos, which are a great novelty, or potentially even looking to buy advertising space within virtual worlds. It's a new frontier, and one begging to be explored.
4. Artificial Intelligence (AI). The big question mark in marketing right now is AI. Everyone knows that AI is getting smarter and more usable by the day, but what kind of applications will it have? Smarter chatbots supplementing sales staff? Better drip-feed marketing\messaging systems? Machine learning based advertisement focus-grouping? At the very least, AI offers the potential for automating tedious activities that most humans would prefer not to do.
AI being disruptive – maybe incredibly disruptive – is not in doubt. How this will manifest, however, has yet to be determined. If you've got a clever idea, try it out. Right now, there are no rules. This is a time for trailblazing.
In our next blog, we'll be talking about social trends and how buyer behavior is changing. Stay tuned!
To access a the HubSpot State of Inbound Report, click here.