The great thing about online video is that it can be done quite cheaply. One belief to dispel is that B2B content videos need to be slick and professionally-produced - they don't. Some (largely anecdotal) evidence even suggests that more rough "homemade" videos tend to be trusted over videos that appear too flashy. A decent iPhone or similar smartphone is really all that's needed to make a decent web video, although better equipment is nice if you have access.
Whether your company has chosen to develop a corporate video, product demo, or a how-to video, keep in mind the list of guidelines provided below. These tips will ensure that you end up with engaging, low-cost marketing content to distribute through your channels.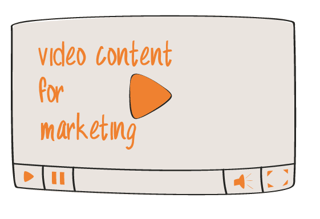 8 Tips for Creative Video Marketing
Hold internal auditions. Find the people within your organization with the best camera presence, diction, and audience appeal. You can almost certainly find someone who's good enough without hiring talent.
Be natural during your presentation and speech. When presenting content try not to sound too stuffy, formal, or scripted.
Don't just "wing it". It's a bad idea to tightly script everything, but have an outline ready and within the presenter's eyeline so they have a guide to the presentation.
Invest in a decent microphone. This is the one purchase that's worth making. Mediocre sound often has a bigger impact on appeal than mediocre video quality.
Take "B-Roll" footage. Material you can edit into a longer single-camera presentation, such as close-ups of items being presented, makes the videos more interesting as well as giving you room to edit out mistakes the presenter makes.
Integrate graphics, charts, diagrams, etc. Most video editing software can easily take a static image and display it for a specified number of seconds while audio still plays. Visual aides are key in keeping audience attention!
Use pop-up text. This is best to use when highlighting key points within the video frame. This requires significantly more post-production work, but usually worth it.
Don't be afraid to "learn as you go." Your first videos will always be a bit rough. Just accept that and focus on getting better with each attempt.
Integrating & Developing Video Marketing Content For Your Channel Partners
Through LogicBay's Partner Relationship Management (PRM) software, you have access to leading video marketing content providers such as Videonitch, which allows you to easily create and deliver sales, marketing, or training content for your channel partners. These resources can be made available to your entire partner network, while ensuring they are always up-to-date with the latest information. Contact LogicBay today to learn more about our strategic technology partners to help you increase your overall channel performance.
About Videonitch: Videonitch provides a robust video channel with certificate-based learning paths in a fully branded, secure, and interactive environment. VN Channel gives organizations the power to create, organize, centralize, and secure training assets within a dedicated and branded video channel, available on-demand, 24/7/365, to employees and partners. Learn more here.