Shipments are being missed. Quality levels are dropping. Employee turnover in the channel is high. Expenses are increasing. Your business is showing serious signs of trouble because it's not easy for dealers to do business with you. Inside the walls of your business, your management team is fighting every fire with the best of their ability. But your channel partners don't have business processes in place that drive the entire organization towards optimal results. There are increased return rates and customer complaints. Phones are ringing with training issues or troubleshooting questions. Why haven't your channel partners done what they need to do to fix THEIR problems?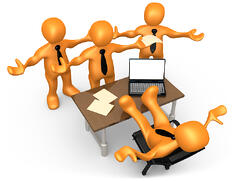 Step back – take a deep breath. This nightmare is the picture of a business that has not properly implemented a partner relationship management (PRM) solution using a Unified Partner Portal Application. Whether the business is a manufacturer, wholesaler, reseller or any other part of the distribution chain, this nightmare is one that most of us would rather avoid. But simply placing a partner relationship management portal online is not enough – there is more involved than sending a memo with the web address. It takes a full commitment to the practice of Partner Relationship Management.
If you can relate to any of these pitfalls, take heed that these problems can be avoided:
No excitement or enthusiasm at portal launch – your channel partners need to know that you are serious about partner relationship management, and they need to understand that it is in their best interest to participate. There is no need to make threats – instead you can build positive enthusiasm and energy while communicating how everyone will realize increased sales, better profits, and reduced expenses if all are on the same page through the partner relationship management portal. If there is not up-front buy-in, your partner relationship management portal will not realize adequate return on investment.
Not enough content at portal launch – your partners may get excited and get their employees to log in. But if there is no relevant content for them to use, all of your promotions will be for naught. Place content that will positively impact every partner in your channel – from training and marketing materials to schedules and certifications. Make sure every partner relationship management portal page has some applicable content ready to use.
No accountability – dumping the responsibility on IT to keep the portal running distances the portal from the groups that can truly make it useful. While IT can get the portal up and running, the business unit needs to take charge and take control and loaded with the right information for each user role within the dealer/distributor environment.
Not a real portal – if the only purpose of your partner relationship management portal is to list a series of links to other sites, it is not a real portal. For true partner relationship management the portal should have its own set of materials that are incorporated directly within the site. Links that send your users elsewhere do not provide truly relevant data. Some links are OK but the portal itself should stand alone as a viable source for your channel partners.
Dated assets – all information within the portal must be kept current, otherwise the usefulness diminishes rapidly.
Ineffective forums or blogs – if forums or blogs are viewed as unnecessary parts of a portal, they will indeed become useless. Instead, make sure they are set up in order to build community and solutions sharing.
Afterthought – portals that are treated as lower priority maintenance items are doomed to spiral into an obsolete tool. Put partner relationship management portal maintenance on a routine schedule and stick to it.
If you apply real partner relationship management portal best practices to your portal, you can avoid the nightmare pitfalls of poor management of the distribution channel. Contact Logic Bay for expert advice on making your portal a true success story.